Cambodia Expects Angkor Sankranta Festival to Give Boost to Tourism Recovery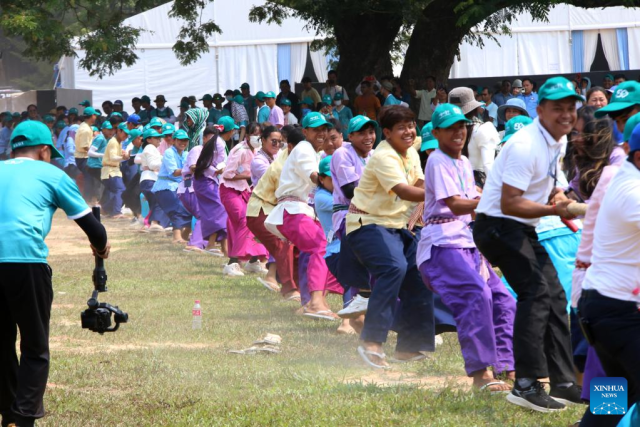 SIEM REAP, Cambodia -- Tens of thousands of revelers on Friday congregated at the famed Angkor Archeological Park here as Cambodia kicked off the three-day Sankranta festival, or Lunar New Year's celebration, after a four-year hiatus due to COVID-19 pandemic.
Prime Minister Hun Sen attributed the resumption of the Sankranta festival to the government's successful control of the pandemic.
"The Sankranta festival is organized to inspire the Cambodian people, especially the younger generations, to understand, love and promote Cambodia's invaluable culture, civilization, tradition and custom," he said at the festival's opening ceremony.
"And it is also aimed at maintaining national identity and upholding national pride," he added.
A variety of events, including a cultural show, traditional games, dancing, singing, martial arts, trade exhibition, food show, and modern concert, are being held at the festival from Friday to Sunday.
Hun Sen was confident that the Sankranta festival would boost the recovery of the pandemic-devastated tourism industry.
"It is expected that we will be able to attract more than 4 million international tourists this year," he said, noting that the Southeast Asian nation received 2.28 million foreign visitors in 2022.
Cambodia received 6.6 million international visitors in 2019, and the number sharply dropped to 1.3 million in 2020 and 200,000 in 2021, according to the Ministry of Tourism.
Siem Reap Provincial Governor Tea Seiha said the return of the Angkor Sankranta festival would definitely inject fresh impetus into tourism development in the post-pandemic era.
"This Angkor Sankranta festival is expected to attract more national and international visitors to Siem Reap province," he said.
Seiha also touted Cambodia's hard-earned peace and political stability, saying that they were the key factors allowing the kingdom to organize such a large Sankranta festival.
Hun Many, president of the Union of Youth Federations of Cambodia that organized the festival, said the event offered a window into Cambodia's magnificent culture and tradition.
"It is not only to celebrate the traditional Khmer New Year, but also to show our glorious culture, civilization, tradition, custom, and religions to foreign friends," he said.
Sankranta festival reveler Seatt Phobb, 21, said the festival was a great opportunity to showcase Cambodian culture and tradition and to promote them to foreign holidaymakers.
"I think this New Year festival will be able to attract tourists, especially foreign ones, to the Angkor Wat temple, and it will promote our Cambodian culture to the world," she told Xinhua.
Another 21-year-old festival goer Suy Lipin said she was very happy to see crowds of people celebrating the Sankranta festival at the Angkor Archeological Park, a world heritage site.
"This is the first time I come to play (New Year) traditional games here, and feel very happy although the weather is really hot," she told Xinhua. "I'd like to appeal to people to come and play traditional games at the Angkor park so as to promote our Cambodian civilization to the world."
Related Articles