Cambodia's Public Debt Tops the $10 Billion Mark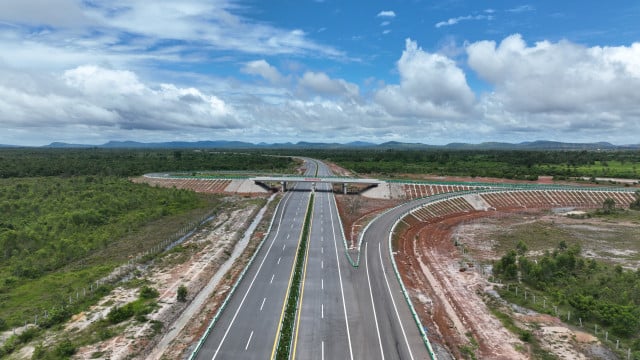 PHNOM PENH – Cambodia's public debt reached $10.27 billion in the first quarter of 2023, with China being Cambodia's first lender with roughly $3.9 billion in loans.
According to Cambodia's Public Debt Statistical Bulletin Volume 18 published on June 8, the country's public debt is composed of $10.23 billion in foreign debt and $42.45 million in domestic debt.
A total of $6.86 billion, or 67 percent, of the country's foreign debt was bilateral debt while the remaining 33 percent was multilateral debt.
China appears to be Cambodia's biggest creditor, with $3.96 billion in total foreign debt. Japan comes second with $1.2 billion and is followed by South Korea with $520.12 million, while France owns $495.41 million of Cambodia's public debt.
For multilateral lenders, the Asian Development Bank (ADB) comes first, with a total of $2.1 billion of the county's public debt, followed by the World Bank ($975 million) and other multilateral partners ($280 million).
The report also mentions an 'old debt' worth $620 million, which corresponds to loans contracted by the former Administration, referring to the pre-1993 era.
While most of these loans have a clear repayment scheme, which is negotiated prior to contracting them, the Finance Ministry said it was working to settle the 'old debt' issue, which has been on the public accounting for decades.
Finance Minister Aun Pornmoniroth said the current debt situation is manageable and low-risk despite the impact of the COVID-19 pandemic and other external factors.
The sustainability of the public debt depends on the country's capacity to manage it properly by developing a legal framework, policies and strategies, he said.
The government is strictly and carefully implementing the strategic measures set out in the Public Debt Management Strategy 2019-2023, Pornmoniroth stated in the bulletin, referring to the five key principles to manage public debt.
The five key principles are taking reasonable loans that can be supported by the financial and economic situation; borrowing only with high concessions or favorable conditions; borrowing only for sectors that sustain economic growth; using credit with transparency, accountability, efficiency, and effectiveness; and primarily taking State loans to invest in public infrastructures.
Cambodia's public debt increased by 4.57 percent compared to the same period last year. According to the Public Debt Statistical Bulletin Volume 18, public debt is expected to reach $11.3 billion by the end of the year, which would account for 25.6 percent of the GDP.
As of December 2022, Cambodia had a total public debt of $9.9 billion, worth 25.2 percent of the country's GDP.
Originally written for Thmey Thmey, the story was translated by Teng Yalirozy for Cambodianess
Related Articles