Lockdown has Brought Cambodia's Inequalities to the Forefront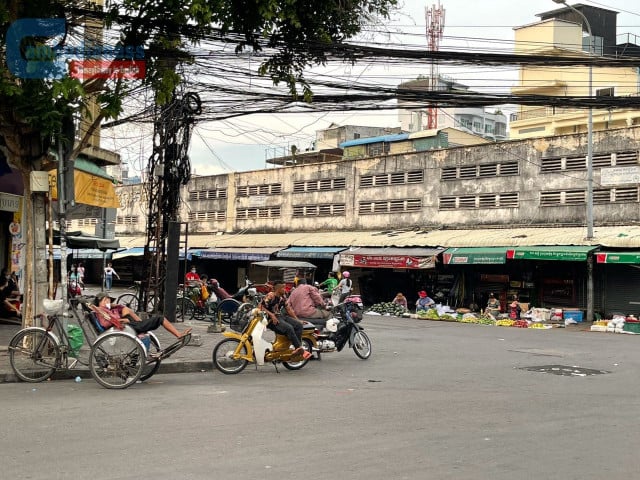 Burdened by debt and desperate for food, Phnom Penh's poor are struggling through a chaotically enforced lockdown, leading community groups to rise up to help those in need.
PHNOM PENH--It has been more than one week since lockdown was officially declared in Phnom Penh and Takhmao City, but given the relentless rise of COVID-19 cases in Phnom Penh and beyond, Prime Minister Hun Sen has hinted that the capital's lockdown could well be extended beyond April 28.
Or Vandine, spokesperson for the Ministry of Health, declined to comment on the roadmap out of lockdown, and Phnom Penh Governor Khoung Sreng simply stated that he could not say when lockdown would end or how it would be lifted.
"Everything is under control, everyone is safe," he said before saying that he was bored of being bothered by journalists and hung up on reporters.
As seen across the world, lockdowns—which Cambodia had avoided until this month—have disproportionately affected the poor. But after a year of economic disruption, the UN warned in February 2021 that the pandemic could leave 17.6 percent of Cambodians in poverty.
This, the World Bank reported in November 2020, would be the first time in 20 years that Cambodia's poverty rate had increased—with growing demand for the government's cash transfer scheme between June and October 2020 suggesting that at least another 300,000 people had fallen into poverty during that time.
But Cambodia's vulnerability to shocks has long been documented: The World Bank in May 2019 said that many Cambodians may live above the poverty line but not by much, and even small changes to their finances could impoverish them.
The COVID-19 pandemic has, by and large, been one of the most profound and encompassing economic shocks in recent history and has left no country untouched, but for Cambodia—where a reduction of consumption by just $0.50 per day would double the poverty rate—the interlinked health and economic crises borne of COVID-19 have brought inequalities bubbling to the surface, even before the Feb. 20 outbreak that has so far killed 59 people.
Government response to the latest outbreak has been sluggish, chaotic and has resulted in an ever-changing patchwork of regulations. It took more than a month before nationwide policies were introduced and 54 days—along with 36 deaths—before Phnom Penh, the largest hotspot for new cases, was placed in lockdown.
"Brothers and sisters won't starve due to the lack of food supplies," Hun Sen said on April 14 as he ordered Phnom Penh and Takhmao City into lockdown.
The afternoon of April 14, Hun Sen's voice was heard in an audio clip that rapidly went viral—he appeared to be declaring an impending lockdown of Phnom Penh—and people immediately panicked, flocking to markets to stock up on food and necessities without observing social distancing policies.
Clamoring for Food Donations
Since lockdown, the silence of Phnom Penh is deafening but the clamor for government support is growing louder by the day—particularly on Telegram, where a group chat established by City Hall designed to identify people struggling for food in lockdown has swollen to more than 48,000 members in just four days.
City Hall has taken to periodically turning off the ability to write messages in the group chat due to the sheer volume of messages received, particularly those from people like Pang Sona Roth who are living in what has been designated a red zone, that is, areas deemed high risk where people cannot leave their homes without permission.
Like the initial lockdown measures, the implementation of the red zones was preceded by leaked information from the government giving advance warning on April 19, albeit just a few hours ahead of designation.
The stringent measures have impacted Roth, a resident of Damnak Thum III Village in Meanchey District's Sangkat Stung Meanchey III, who has repeatedly sent the required details to receive supplies from City Hall.

Out-of-work for six months, the tuk-tuk driver said he has received nothing from the government so far.
Now, with the $200 monthly payments for rent overdue, Roth said he has no idea how his family will find the money to pay the landlord. He lives with his mother, his three brothers and his father who suffered a stroke six years ago and has not been able to work since. With their home in a red zone, none of them can earn.
"My family is facing a hard situation," he said. "Living in a rented house, my parents are old, my brother and I are tuk-tuk drivers, but since the Feb. 20 outbreak, our income has dropped so much…And since lockdown, we have no income."
Roth noticed that the village chief, who is responsible for alerting the local authorities to households in need of emergency support, has not listed his family as eligible for food donations. Roth suspected his family was denied support because they had previously had an argument with the village chief who, Roth, said is now taking revenge.
"Nearly all families in my village received food and other support, but only my family and maybe two or three others who also had conflicts with him [the chief] did not get their names listed," he said.
The financial burden was set to be eased by the government after Hun Sen announced on April 10 that families who had been forced to quarantine or had a member who contracted COVID-19 would receive 300,000 riel (roughly $75) but this was swiftly retracted on April 20.
Profiting in a Crisis
Food supplies became the next of Hun Sen's promises to fall through as markets around the city were ordered to close. Within the red zones, the situation was dire. Even local shops, minimarts and grocers operating from their homes were forced to shut down, but the Ministry of Commerce announced that residents of the red zones could purchase rice, canned fish, noodles, fish sauce, soy sauce and bottled water from the government.
The water is provided by a company that boasts Hun Mana—Hun Sen's daughter—as chair of the board of directors and the rice is believed to be sold by Oknha Leng Navatra. Meanwhile the noodles are on sale courtesy of One More Manufacturing, which is owned by Chumteav Cheung Sokuntheavy, who is both married to and step-sister to Lau Vann, son of Cambodian People's Party Senator Lau Meng Khin.
The Ministry of Commerce did not respond to questions regarding the choice of products being sold to those in lockdown who have no other choice but to buy from the government, saying the state-owned Green Trade Company is responsible.
The Commerce Ministry's move has resulted in a de facto monopoly over the red zones allowing the wealthy and politically connected to profit off Phnom Penh's poorest.
This is hardly a new trend, as the World Bank's May 2019 report outlined when it asserted that poverty reduction had stagnated in urban areas between 2013 and 2017 while the wealth gap was growing significantly wider.
Lockdown has already impacted farmers outside of the affected areas who said they have no markets to sell to now that Phnom Penh is shut down. But for the vendors who worked at the now vacant markets, life in the capital has been tough long before lockdown.
The 10 families who rent rooms from Prak Sothida mostly consist of market vendors, she said, and all are now in urgent need of food donations. Sothida had reached out to City Hall via the Telegram group established earlier this week, but is yet to receive any government support, even though some neighbors appeared to receive free food.
"The purpose of my asking for help is not only me, but for all the people who are living in my place," she said. "For almost three months, they have had no income, they earn nothing because they are afraid of COVID-19—we all are—but the rent is between $50 and $60 per family and they cannot pay me because the markets are empty."
Lockdown's Uneven Impact on Informal Workers
It is unclear whether microfinance institutions and other lenders will show the same compassion towards their clients as Sothida has her tenants, but the specter of debt lingers over those in lockdown and many in the red zone are worried over how they will survive, let alone pay their debts.
This is especially hard for those among the informal sector for whom the streets are their place of business and the lockdown effectively denies them an income. The financial hardships were felt throughout last year, but now the matter has shifted from wallets to stomachs.
If the informal sector, which largely consists of street vendors, tuk-tuk drivers and waste collectors have a collectivized voice, it is Vorn Pov, leader of Independent Democracy of Informal Economy Association (IDEA), who speaks on their behalf.
"A lot of us have received some support in the form of donations, mostly food, some from the government too, but between 10 and 20 percent of IDEA members in Phnom Penh are residents in other provinces and don't have the documentation needed for support," he said, adding that many don't have fixed addresses as they sleep on the streets or in their tuk-tuks.
Pov said that there was a wave of enthusiasm and hope among IDEA members when Hun Sen initially announced that financial support would be available and they had been disappointed when the Ministry of Economy and Finance had confirmed this plan had been cancelled.
"For me, this would have been a more useful measure for the people in Phnom Penh and Takhmao who are under lockdown," said Pov.
He also noted that the outbreak highlighted a need for stronger social assistance and intervention programs.
An Absence of Safety Nets
This was an issue that Moeun Tola, director of the labor rights group CENTRAL, agreed on and warned that a failure to implement effective support to people could result in disaster.
"If there is no proper social assistance program, then people won't respect the rules of the lockdown," he said. "Cases are still high, so I expect lockdown will be extended, but its success depends on [the government] helping people. Otherwise, it'll get out of control when people have no food, no income and people will simply act in accordance with their stomach, not public health guidelines."
Tola, who himself is living in a newly-designated red zone, said that the current rules closing local markets in red zones have robbed people of an income and shifted money to the tycoons supplying the products sold by the Ministry of Commerce. He argued that this was not helpful and not necessary when clearer guidelines would allow people to continue earning despite the lockdown.
He was also concerned that an extended lockdown would simply be ignored by people too desperate to stay home and rely on government-sold food.
"I'm afraid that people might not stay home, they will stand up," Tola said. "They were promised money and food. It's affecting low-income people in the informal sector differently. They will not survive long: The stomach is stronger than respect for the rules."
For tuk-tuk drivers there is no work, but there are still debts, he said, and the number of low-income communities in Phnom Penh vastly outnumber those considered medium or high earners. This, he explained, is why the closure of markets has been so devastating: People cannot afford to shop elsewhere.
"The problem is that neither development nor resources have been distributed fairly, Cambodia is reliant on importing food because agriculture has not been developed," Tola said. "Instead, farmers were made landless through economic land concessions gifted to tycoons and, when farmers are forced into becoming laborers, it disrupts development."
Gross domestic product, which had been growing at a steady rate of 7 percent for more than a decade prior to the pandemic, is not a reflection of the reality that Cambodians experience, he added, noting that the large contributions of a few tycoons skewed the figures that were supposed to measure progress.
"We pay our taxes, but education is not free, doctors won't treat you if you have no money—all of this helps keep people below or just above the poverty line," Tola said.
Communities Filling the Gaps in Policy
The ever-shifting nature of rules related to COVID-19 has caught out citizens and authorities alike. On April 21, police took matters—and sticks—into their own hands and violently attacked rule-breakers, apparently in the belief that this was not only necessary, but approved of by higher authorities.
It took personal interventions from Deputy Prime Minister Sar Kheng and National Police Chief Neth Savoeun to confirm that police were not allowed to use violence in enforcing COVID-19 restrictions. But according to San Sok Seiha, spokesperson for the Phnom Penh Municipal Police, some 179 people had been arrested as of April 22.
"Only six were sent to court, the rest were educated and fined," he said, adding that most were detained for not complying with or obstructing the new COVID-19 restrictions law. Five of the six sent to court were now in detention while one case was still being processed. Seiha did not know how many of the 179 had been beaten before their arrest.
But while the gulf between national policy and local law enforcement steadily shrinks, communities have wasted no time plugging gaps left in Cambodia's social assistance programs.
COVD Help, since March 25, has been providing donations of food and hygiene products throughout Phnom Penh. One of the founders, who requested to remain anonymous, said that they are simply a group of people who want to support the communities they live in.
"It started with a post on my private Facebook profile asking friends if they wanted to contribute to the food and hygiene packs I was preparing," the founder said, adding that they wanted to help tuk-tuk drivers who had been affected by the COVID-19 outbreak.
From a post on Facebook, COVD Help has grown to a group numbering roughly 30 and, while they are aware that they cannot replace the work of NGOs, they have established a partnership with IDEA to ensure that aid reaches those most in need.
"IDEA is an established network, has a community that trusts them, and the means to keep on distributing even under lockdown," the founder explained. "They are currently in urgent need of food for their members and their families, who have lost their jobs."
While the founder was quick to stress that COVD Help is neither a long-term nor sustainable project—rather, they said, it is an immediate response to a crisis—the aim is to help alleviate the extreme poverty linked to sudden job losses.
Prior to the lockdown and their subsequent partnership with IDEA, COVD Help consisted of four teams of volunteers who distributed food, masks, hand sanitizer and other necessities to cyclo drivers, tuk-tuk drivers, waste collectors and those living on the streets.
So far, COVD Help has raised $9,000 which the founder said equated to 1,125 emergency food kits—450 of which have already been distributed.
Meals on Wheels
They are not alone in their spontaneous acts of compassion. In March 2020, 21-year-old Taing Huang Hao—a third-year student at the University of St. Thomas in Minnesota, US—thought he had returned home to Cambodia in March 2020 for a brief break from studies. Then came the COVID-19 pandemic and, more than a year later, Hao is still here, but is determined to make the most of it.
Studying by night, working as a communications officer by day and volunteering in the moments in between, Hao also jumped at the chance to support his local community as a Phnom Penh native and, out of the COVID-19 outbreak, Local4Local was born.
"Starting on April 9, we've given out a little more than 1,000 meals, along with masks, hand sanitizer and hygiene products—we've raised around $12,000 so far," explained Hao who has partnered with the Cyclo Conservation and Careers Association—an organization geared towards supporting Cambodia's vanishing cyclo drivers.
Serving five districts in Phnom Penh, Local4Local is a volunteer-run group that works seven days a week to provide locally-sourced food to those who need it most. Local4Local's premise is creating sustainability—something Hao is keen to implement through his studies in supply management. And so five teams of cyclo drivers go out and use donations to buy meals from street vendors, then they distribute the meals to those who live on the streets.
"Each day they're giving out 200 meals, so that's 40 meals per area and the street vendors cook it," said Hao. "They're paid roughly 6,000 riel [$1.50] through donations we receive and then the cyclo drivers, who know the areas and know who is in need, go and deliver it."
The cyclo drivers also get food and sometimes even tips from those on the streets, he added. "It's for anyone in need, the edjai [waste collectors], security guards, tuk-tuk drivers, those on the streets: It's for anyone who needs it."
Hao hopes to see this become a long-term project that outlasts the lockdown, even after he returns to the US to finish his studies. He is currently working out how to collaborate with markets to ensure that Phnom Penh's most vulnerable remain fed even after the COVID-19 pandemic.
"Local4Local says everything really, it's local people helping local people, everyone's helping each other out," said Hao. Currently, Local4Local's system requires $2,000 each week to provide the 200 meals a day.
The Cyclo Conservation and Careers Association estimates that there are between 100 and 150 cyclo drivers left in Phnom Penh and Hao wants to help preserve the cultural value they bring to the city. "When it comes to the cyclo drivers, the lockdown has stopped a lot of their support mechanisms," he said. "But they're obvious, they're on the streets, so I want to extend the support that the cyclo drivers get to the less visible people who also live on the streets.
"There's a bit of perspective shift, people pity the cyclo drivers when they see them on the streets," Hao said. "But there's something special about them. They bridge our culture, they've been doing this for decades. So even though the lockdown has affected them, they're ambassadors of Cambodian culture and it's important to help them through this tough time."
Related Articles