PM Leaves for UN General Assembly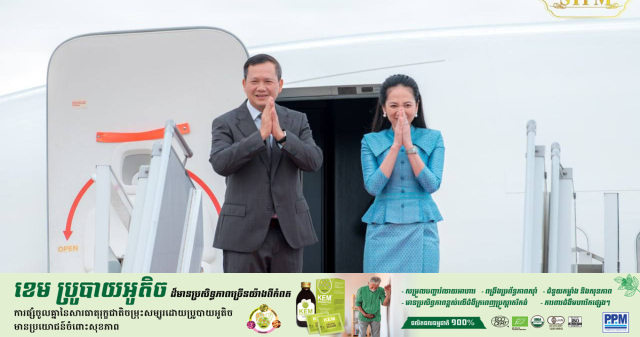 PHNOM PENH – Prime Minister Hun Manet has flown out to attend the 78th session of the United Nations General Assembly (UNGA) in New York.
He will deliver his speech on Sept. 22. It will be his first at the UNGA since taking office.
He will also meet UN Secretary-General Antonio Guterres and foreign dignitaries.
US Ambassador to Cambodia W. Patrick Murphy said, "This is an important high level week every year. We encourage Cambodia's contributions.
"There will be some opportunities for government-to-government dialogue while the Prime Minister is there and we view this as positive.
"We want to talk. We want to increase understanding and make this relationship even better."
He said the US maintained cooperation on many important issues, including matters related to the UN to ASEAN to the Mekong, to protecting the health, safety and security of the citizens of Cambodia and of the United States.
At an earlier meeting with workers in Takeo province, Manet said he would take the opportunity to attract more investment through meetings with American-Cambodian and American investors.
This year's UNGA central theme is "Rebuilding Trust and Reigniting Global Solidarity: Accelerating Action on the 2030 Agenda and its Sustainable Development Goals Towards Peace, Prosperity, Progress and Sustainability for all".
The Ministry of Foreign Affairs and International Cooperation said on Sept. 15 that Manet will address three key dimensions: the global context, Cambodia's socio-economic progress, and Cambodia's commitment to Sustainable Development Goals Transformative Actions.
A high-level delegation is travelling with the PM. These include Deputy Prime Minister and Foreign Minister Sok Chenda Sophea, Senior Minister Ouch Borith and Sry Thamrong.
Chenda Sophea will participate in regional and international dialogues on side conferences. The dialogues include the 15th ASEAN Economic Cooperation Foreign Ministers' Meeting and other meetings with counterparts.
Deputy Prime Minister Neth Savoeun is acting prime minister in Manet's absence.
In 2022, former prime minister Hun Sen spoke at the 77th session of the UNGA about the Russia-Ukraine war, the Korean Peninsula and COVID-19.
Related Articles