Twenty Tonnes of Illegal Meat and Seafood Seized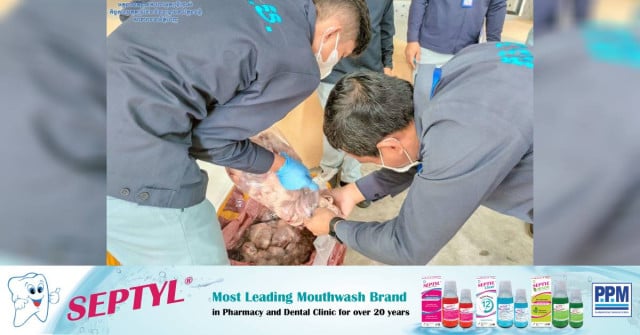 November 17, 2023 7:05 PM
Phnom Penh – Authorities have seized nearly 20 tonnes of frozen meat, shrimps and expired meatballs in a series of crackdowns on illegal meat imports.
The latest crackdown comes after Prime Minister Hun Manet told ministries to take action against unhealthy products and strengthen the law controlling the import of frozen meat and low-quality food.
Hun Manet said he had received many requests from the private sector about import of frozen meats which not only undercut local traders but also harm consumers' health.
On Nov. 15, the Consumer Protection Competition and Fraud Repression Directorate-General (CCF) seized 30 kilograms of expired meat and meatballs. More than eight tonnes of chicken wings, meatballs and chicken gizzards illegally imported from Thailand were confiscated the same day.
These products were for distribution in Battambang province, CCF said.
The next day, authorities seized nearly seven tonnes of frozen meat and shrimp in Phnom Penh which had been contaminated with a chemical for longer storage.
Of this, 4.7 tonnes of frozen meat were of unknown source with invalid documents while the 124 cases of fresh shrimp weighing 2.13 tonnes were found to contain formalin and carboxymethyl cellulose. These chemicals cause serious harm to consumers and are illegal, CCF said.
On Nov. 13, CCF seized more than three tonnes of quail in Chbar Ampov district of Phnom Penh which had been imported illegally from Vietnam.


Originally written in Khmer for ThmeyThmey, this story was translated by Rin Ousa for Cambodianess.
Related Articles