Banging the Drum for Koh Ker UNESCO Inscription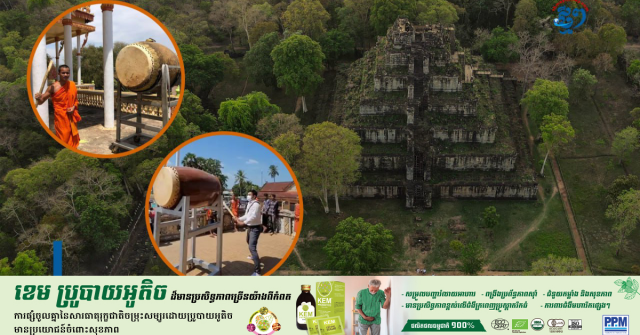 PHNOM PENH – Prime Minister Hun Manet has called on all institutions and the people to bang drums at 7 a.m. on Sept. 20 to celebrate the inclusion of the archaeological site of Koh Ker on the UNESCO World Heritage List.

"All ministries and institutions in the capital, provinces and citizens of the nation please join in the drum banging at 7 a.m. on Sept. 20 to celebrate Koh Ker complex's inclusion in the world heritage," he said through a statement after the site was added to the UNESCO list on Sept. 17.

The ancient temples of Koh Ker, which officially go by the name of Koh Ker: Archeological Site of Ancient Lingapura or Chok Gargyar, became Cambodia's fourth historical and cultural tourism destination to be listed as UNESCO's World Heritage during the 45th session of the World Heritage Committee in Riyadh, Saudi Arabia.

It joined the archaeological sites of Angkor, Preah Vihear and Sambor Prei Kuk, which were added to the list in 1992, 2008 and 2017 respectively.

Following the listing of Koh Ker, Hun Manet conveyed a message to King Norodom Sihamoni to celebrate this new success for Cambodia.

The Ministry of Culture and Fine Arts and the National Authority for Preah Vihear started preparing registration applications in 2018, with partial technical consultations with international experts, until the registration was fully completed in 2020.

The ICOMOS-Advisory Body of the World Heritage Committee then visited the site of Koh Ker in 2021.

Cambodia's culture is also widely recognized by UNESCO.

The royal ballet was added to the list of the Intangible Cultural Heritage of Humanity in 2003, followed two years later by the "Sbek Thom" also known as the Khmer Shadow Theater. In 2015, Cambodia's traditional Tug of War game was recognized by the U.N. body, in a joint request with South Korea, Vietnam and the Philippines, who also share this tradition.

Chapei Dang Veng, a traditional Khmer instrument, and Lkhon Khol Wat Svay Andet, a traditional dance, were inscribed on the List of Intangible Cultural Heritage in Need of Urgent Safeguarding in 2016 and 2018 respectively.
Related Articles