Court Denies Bail to Activists
Phoung Vantha and Gerald Flynn
October 20, 2020 8:58 AM
Three environmentalists from Mother Nature Cambodia and two youth activists from Khmer Thavrak have been denied bail by the Court of Appeal today.
PHNOM PENH--The Court of Appeal in Phnom Penh on Oct. 20 rejected the bail application of activists who have been jailed as a result of peaceful protests. The court argued that the defendants may be a flight risk and bail was denied to ensure their presence at further hearings.
The court also claimed that by denying bail to the five activists, it would prevent a repeat of their offenses and would maintain public order.
Defense lawyer Sam Chamroern said that the Court of Appeal's decision upheld the verdict of the Phnom Penh Municipal Court in this case.
Thun Ratha, Long Kunthea and Phoun Keo Reaksmey of Mother Nature Cambodia were arrested on Sept. 3 after they posted on the environmental group's Facebook page announcing that they would walk from Wat Phnom in Phnom Penh to Prime Minister Hun Sen's house as part of a peaceful protest against the filling in of the city's lakes.
Boeung Tamok in particular was mentioned by the group after the government gave away hundreds of hectares of the lake to a range of well-connected Cambodian elites and government institutions. As such, the Ratha, Kunthea and Reaksmey had planned to dress in white and walk to request a meeting with Hun Sen, where they had hoped to address the environmental impacts of the government's actions.
Instead they were arrested on Sept. 3 and then charged with incitement to cause serious social chaos by the Phnom Penh Municipal Court on Sept. 6.
Meanwhile two members of the youth group Khmer Thavrak—Hun Vannak and Chhoeurn Daravy—were arrested on Aug. 13 for their participation in a peaceful protest calling for the release of jailed union leader Rong Chhun. The day after their arrest, they were also charged with inciting social unrest by an investigating judge.
"There is no such thing as a court of justice in Cambodia, especially if the accused is an activist or a dissident," said Mu Sochua, deputy leader of the now-dissolved Cambodia National Rescue Party.
"The message the Hun Sen regime clearly wants to give to youth activists is to expect development and peace according to the policies and the laws of the regime," she said. "Khmer Thavrak and Mother Nature activists are challenging the regime."
Sochua added that both the youth activist group Khmer Thavrak and the environmental group Mother Nature are still immensely popular online and said that she sees this as a sign of hope.
Meanwhile for Chak Sopheap, executive director of the Cambodian Center for Human Rights (CCHR) said the court's decision not to grant bail to the activists was unfair.
"The decision of the Phnom Penh Court of Appeal to deny Khmer Thavrak activists Chhoeun Daravy and Hun Vannak bail and deny a motion against detention for Mother Nature activists Long Kunthea, Thun Ratha and Phuon Keo Reaksmey is not a just outcome and it stands in stark contrast with international human rights standards," Sopheap said.
"Requiring these activists to remain in detention in this manner is deplorable," she added.
She slammed the government's excessive use of pre-trial detention—an issue raised by international human rights group Amnesty earlier this year—and stated that the treatment of the five activists illustrated the threat of arbitrary deprivation of liberty that people face when speaking out against the government.



"Such use of pre-trial detention is not in line with the right to be presumed innocent until proven guilty, nor is it in line with the right to liberty as enshrined in international human rights law and the Constitution of the Kingdom of Cambodia," she said, adding that pre-trial detention ought to be a last resort when other non-custodial measures have failed.
"Not only is the denial of their freedom inappropriate, but the charges leveled against both the Khmer Thavrak and Mother Nature activists are in contrast to the fundamental freedoms of expression, assembly and association as protected in domestic and international law, and they should be dropped," Sopheap stressed.
Peaceful assembly, even when standing up to disagree with the government, is not a crime, she said. She also warned that the ongoing crackdown against activists and human rights defenders is act of intimidation designed to prevent the public from exercising their freedoms, which is not fruitful in a just society.
"The [government] must stop viewing activists and human rights defenders as political dissidents and release all those arbitrarily arrested for exercising their rights and freedoms," she added, in reference to the numerous human rights defenders, unionists, artists, environmentalists and political activists who have been jailed over the course of 2020.
"This decision also revives valid concerns regarding independence of the courts of Cambodia," Sopheap concluded. "The court is supposed to provide a check and balance on the actions of the government, uphold the rights of Cambodian people and deliver justice—none of which was done in this case—rather, the court legitimized the current government crackdown on fundamental freedoms."
Related Articles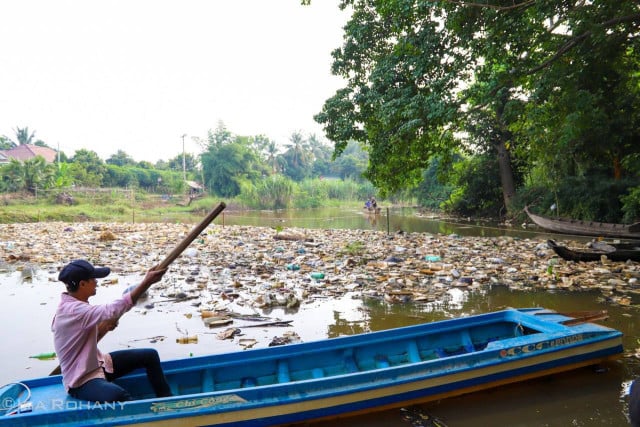 September 9, 2023 5:00 PM