King to Officiate at SEA Games Torch Send-Off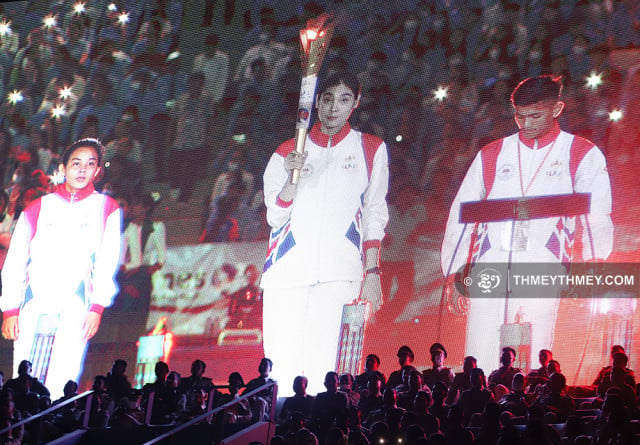 PHNOM PENH – King Norodom Sihamoni will preside over the torch-lighting ceremony in Siem Reap province, starting the three-month relay for the historic SEA Games.
The relay will run from Mar. 21 to May 5 across Cambodia's provinces alongside the Tonle Sap river and then through countries in the ASEAN region before the 32nd SEA Games and the 12th ASEAN Para Games kick off.
The relay will start in Siem Reap province because the Angkor site is the most suitable location for the ceremony, according to Vath Chamroeun, secretary-general of the Cambodia SEA Games Organizing Committee and National Olympic Committee of Cambodia.
"We all know that the Angkor site is a sacred land in Cambodia, and is the symbol of the national identity," Chamroeun said.
As the host, Cambodia will also present and promote the cultures, civilization and prosperity of the country to the world.
The ceremony is usually held at sites of spiritual, cultural and historical significance.
The sporting events will take place in areas with the Khmer ancestors' legacy — Angkor Wat, Angkor Thom, and especially the area around Kulen mountain where the mountain bike racing will take place during the SEA Games.
Chamroeun said the Games will also present the potential of Cambodia's tourism, history, and cultures from Kulen mountain to the Angkor sites.
According to CAMSOC, the torch will be carried from Siem Reap province , along the Tonle Sap river and to the other 10 ASEAN countries before coming back to Cambodia.
In Cambodia, the torch will be carried from Stung Treng province to Phnom Penh, then to Kampong Chhnang province from where it will go to Pursat province before reaching Battambang province.
The torch will continue to Siem Reap province and to Kampong Thom province, then will arrive the Morodok Techo National Stadium in Phnom Penh.


Meng Seavmey contributed to the story.
Related Articles