Mu Sochua to Hun Sen: Be a Leader with a Heart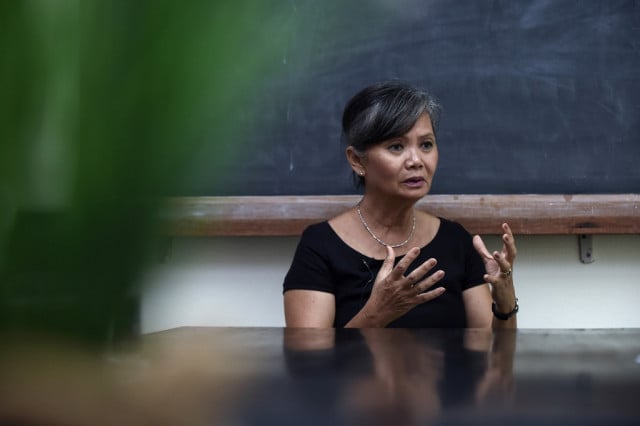 Phoung Vantha and Gerald Flynn
January 14, 2021 9:04 AM
As she was tried in absentia, deputy opposition leader Mu Sochua called on Prime Minister Hun Sen to allow her to return to Cambodia to face trial and compete in the next elections, while international observers criticize the lack of due process in Cambodia's courts.
PHNOM PENH--Deputy Leader of the outlawed Cambodia National Rescue Party (CNRP) Mu Sochua on Jan. 14 called on Prime Minister Hun Sen to show leadership and allow the CNRP to compete in free and fair elections.
"Have a heart, be a leader with a heart," said Sochua in a message directed at Hun Sen. "There can only be one Cambodia and we must have national unity, so Hun Sen must be brave and compete fairly and squarely in the next elections to let the people decide what kind of leadership they want."
"That's all we want and we are willing to walk into jail for it," she added, saying that there is a pressing urgency for national dialogue and for political opponents to accept one another.
This call for dialogue comes just days before Sochua is due to make another attempt at returning to Cambodia, although—as in November 2019—the Cambodian government has thrown down a seemingly insurmountable gauntlet of bureaucracy.
Having fled Cambodia for fear of her life, Sochua has been living in exile since 2017 utilizing her long-standing US citizenship following the cancellation of her Cambodian passport. Hun Sen's government previously urged neighboring countries to deny entry to CNRP leadership figures, including Sochua, who attempted to return home in November 2019, but Cambodia's Ministry of Foreign Affairs ultimately ensured their journey was unsuccessful.
This time, Sochua said that the Cambodian Embassy in Washington DC "shut the door on its citizens" and has refused to issue visas to herself and other CNRP members with foreign passports, even as she was unable to attend the trial due to start in Phnom Penh on Jan. 14, 2021.
Koy Kuong, the Foreign Affairs Ministry's spokesperson, declined to comment on the matter, stating that Chin Malin—spokesperson for the Ministry of Justice—had already discussed this publicly. Malin declined to comment on whether the denial of entry to CNRP members was a violation of their constitutional rights or a failure to observe due process in Cambodia's notoriously corrupt court system.
Tried in Absentia
The political conundrum for both the CNRP and Hun Sen is a game of dare, said political analyst and Mean Chey University lecturer Seng Sary.
"The current situation is that the government does not want to be seen arresting the opposition politicians, so they don't want them [the CNRP leadership] to enter the country. But as a result, the opposition party both wants and doesn't want to return—as they want to use politics to retain the public's faith in them, but don't want to be arrested," he explained.
He noted that Sochua's Jan. 12 letter to King Norodom Sihamoni calling for royal intervention in the attempted return to Cambodia was likely to be ineffective.
Meanwhile, Sok Eysan—a senator for the ruling Cambodian People's Party—claimed that the former opposition party was outlawed following its dissolution by the Supreme Court on Nov. 16, 2017 and that the ruling party will not negotiate with illegal political organizations.
"The Cambodian People's Party opens its doors to politics with all the legitimate political organizations that exist in Cambodia," he added, saying that Cambodians have the right to support any political party of their choice, but that they cannot support the former opposition party.
"Support and actions that help illegal rebel groups are illegal acts and against the law," he said, but could not specify which law such support would violate.
Speaking at a press conference organized by the Coalition of Asian Liberal Democrats on Jan. 14, Sochua stated that, despite these challenges, she remains determined to return to Cambodia to stand trial. She noted that—as she was speaking—61 CNRP leaders, including herself, were on trial at the Phnom Penh Municipal Court.
Charged with incitement, conspiracy and treason, some 132 CNRP members will stand trial, although the politically motivated nature of the charges have prompted many observers to decry the trials as neither free nor fair, noting that the courts in Cambodia do not meet international standards of justice or independence.
US Ambassador W. Patrick Murphy took to social media to voice concern over what is widely regarded as a sham trial with bogus charges levelled against CNRP members in a politically motivated attack on the opposition.
"US Embassy observers at Phnom Penh Municipal Court again today to observe ongoing mass trial of civil society and political activists. We have serious concerns about lack of due process and urge Cambodian authorities to preserve the constitutional right to peaceful expression," the embassy wrote.
"We want peace to put an end to this political charade," said Sochua, adding that the chaotic scenes at the Municipal Court both today and last month are the consequences of one man's actions.
"There is no sustainable development if there is no rule of law, no respect for our human rights and no democracy. We are willing to be arrested, we will go to jail, we will brave travel in a pandemic—take me, take my colleagues, but let there be national dialogue," Sochua implored.
"Hurtling Towards Dictatorship"
The deterioration of rule of law in Cambodia accelerated sharply over the course of the COVID-19 pandemic, with Human Rights Watch recording the arrest of at least 60 activists, journalists and artists who were critical of the government. Similarly, reports of assaults, attacks and intimidation against CNRP supporters were mirrored by frequent acts of police brutality in response to peaceful protests.
"Cambodia is hurtling towards dictatorship," stated Phil Robertson, Human Rights Watch's deputy director, Asia division, said in a press conference on Jan. 13. "This is part of the effort to scare everyone else, to show that if you speak out, if you stand up for your rights or dare to protest, you will go to jail."
Robertson accused Hun Sen of taking advantage of the COVID-19 pandemic, but noted that the US has been absent for four years under the Trump administration when it came to punishing those who commit human rights abuses.
In the closing weeks of 2020, notably over the Christmas and New Year's period, three trials were conducted on Dec. 21, Dec. 29 and Dec. 30 that saw CNRP's leadership tried in absentia, 21 CNRP members charged with incitement—although only 13 were present—and 15 activists also charged with incitement. On top of this, a further 14 CNRP supporters were arrested over the two-week holiday period, with many foreign diplomats and observers noting that the timing of these trials was designed to avoid the attention of the international community.
"The government has complete control over the legislative and the judiciary—it's lawfare," said Robertson. "Hun Sen is using the courts to violate the rights of the people under the guise of maintaining order, but it's really about maintaining power for Hun Sen."
He argued that Hun Sen has no desire to allow the CNRP leadership to return to Cambodia, despite the arrest warrants, court summons and trials and accused Hun Sen of playing the pandemic like a game by seeking support from China to counter mounting pressure from the European Union, the US and other democratic nations.
"Hun Sen has been hiding behind the courts, saying the CNRP have committed crimes, but not allowing them to return and stand trial, I think the situation now depends on the international community," he said, calling the EU's partial suspension of Cambodia's trade privileges "a strong step" that other like-minded international actors should replicate.
The International Community's Involvement
In February 2020, the European Commission determined that Cambodia had not fulfilled its obligations in relation to labor and human rights necessary to maintaining access to the EU's Everything But Arms (EBA) trade scheme. As such, as of August 2020, Cambodian goods imported to the EU now face duties and quotas, although the United Kingdom—which maintained a large market-share of Cambodian exports within the EU trade bloc—has since left the union and has opted to reinstate similar trade perks to those offered through EBA.
Likewise, Sweden announced in 2020 that it would be halting bilateral aid to the government and closing its embassy in Cambodia due to the ongoing deterioration of democracy and human rights. Sweden did however state that it would continue to provide aid and support to civil society organizations working in the field of democratization and human rights in Cambodia.
"We really are seeing the complete and total destruction of Cambodian democracy, even though the Cambodian government has ratified almost every international convention on human rights, so shouldn't there be some punishment for violating those? Shouldn't there be accountability?" asked Robertson, who called for greater application of the Global Magnitsky Act to sanction individual human rights abusers in Cambodia.
On Nov. 10, 2020, six UN human rights experts wrote to Cambodian Foreign Minister Prak Sokhonn requesting information on cases where human rights defenders had been arrested, detained, intimidated, surveilled and subject to excessive force.
The human rights defenders in question include Rong Chhun, president of the Cambodian Confederation of Unions; Ouk Chhayavy—president of the Cambodian Independent Teachers Association; the Friday Women of Cambodia, a loose-knit group of women whose husbands and family members were arrested due to CNRP affiliations; activists from youth group Khmer Thavrak; environmentalists from Mother Nature; members of the Khmer Student Intelligence League Association, as well as unionists from a range of different trade associations.
The UN also expressed grave concerns over arrests made on Oct. 23, 2020—the 29th anniversary of the Paris Peace Agreement—where peaceful protesters were injured as police made arbitrary arrests, with the authorities also targeting journalists and observers. The UN's letter also noted that the offices of numerous civil society groups whose work aims to hold the government accountable had been searched, sometimes with warning—something without—acts that the UN is demanding answers for.
"We are particularly concerned by the criminalization of such means under the vaguely worded provisions of the Penal Code, such as articles 494 & 495 ("incitement to commit a felony or cause social unrest"), which seems to be used against human rights defenders and activists who have merely exercised their right to freedom of peaceful assembly and association, and freedom of expression," the letter read. As of Jan. 8, 2021, the government has failed to respond to the UN's enquiries.
Outgoing UN Special Rapporteur on the situation of human rights in Cambodia Rhona Smith took to Facebook to voice her concerns about the mass character of the trial.
"Having 60 accused in mass trial puts their individual rights to a fair trial at risk. Moreover, I am also concerned about several accused being tried in absentia despite their efforts to return to Cambodia to stand the trial," she wrote, urging the government to conduct trials in accordance with the International Covenant on Civil and Political Rights.
"I equally encourage the authorities to facilitate the safe return of these individuals and to allow them to hear and defend their cases in court. In case their physical presence cannot be arranged, I encourage the authorities to facilitate remote participation of these individuals or adjourn the trials until the accused are able to travel," Smith wrote.
Related Articles