The Sprawling Mess of Cambodia's Medical Waste Mismanagement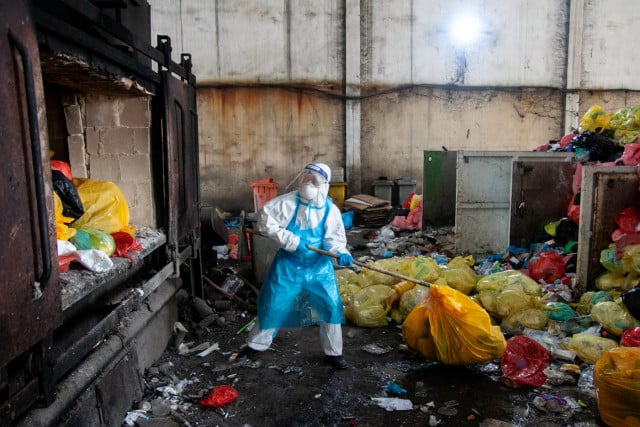 "This project is supported by the Judith Neilson Institute for Journalism and Ideas"
Cambodia's medical waste collectors are stretched to breaking point, causing hazardous waste to slip the net, polluting waterways and putting scavengers at risk as they contribute to an informal waste export economy

PHNOM PENH--Ngoun Sokheng squirmed under the harsh white lights of the clinic.

"I rarely see a doctor and don't get regular check-ups," he explained. "I'm mostly concerned about my lungs and liver, as they are at risk in my line of work."

Sokheng's concerns are well-founded. For 11 years, he has been part of the Medical Waste Management Unit—an offshoot of the Cambodian Red Cross—and is responsible for incinerating Phnom Penh's medical waste, the volume of which has increased tenfold from 2 tons a day to 20 over the course of the COVID-19 pandemic. While the volume of waste has risen, Sokheng believes, the risks associated with his job have also changed.

"We're all concerned about what the smoke will do to our lungs, but with the sharp injuries from used needles, we're concerned about what diseases we've been exposed to," he said.

His team is scared of contracting hepatitis from used needles, Sokheng said, adding that liver damage is the telltale sign of the disease.

The fear of contracting COVID-19 has increased in line with the number of cases in Cambodia, with the Medical Waste Management Unit struggling to collect and incinerate the rising mounds of COVID-19 waste flowing in from the city's hospitals and makeshift treatment centers.

Dr. Chhum Socheat, who requested the name of his clinic not be published, performed an X-ray on Sokheng before going on to smear paste on his stomach in preparation for an ultrasound so that he could check Sokheng's liver for early signs of hepatitis.
"We cannot count how many times we got stabbed [by used needles]," Sokheng explained to Dr. Socheat. "Some months it happens and other months it doesn't so we stopped counting—on average, we get stabbed two to three times each month.". In the past, he would only use alcohol and anti-bacterial spray to clean the wounds.
Fortunately, Dr. Socheat's prognosis was promising: No sign of bronchitis or pulmonary fibrosis, his lungs were a good size, and there were no signs of hydrothorax, tumors or tuberculosis. The same for the liver: No cause for concern, despite the hazardous environment in which Sokheng works seven days a week.
"This kind of work could present a significant risk for his health," Dr. Socheat said. "For example, contaminated waste from infections or from chemicals all expose him to the risk of viruses, bacteria, hepatitis, HIV, many kinds of infection through the bloodstream and body fluid. Also, some drugs or chemical substances can expose him to a risk of cancer, especially lung cancer."
The warnings for Sokheng were stark. By Dr. Socheat's analysis, the length of time he has spent around incinerators puts him at the same risk of lung infection or cancer as a heavy smoker. Dr. Socheat also advised him to get a blood test immediately after being pricked by an errant needle.
Although studies have found that COVID-19 can survive between three hours and seven days depending on the material contaminated, the risk posed by the handling of medical waste from COVID-19 patients remains relatively unclear, but the threats Sokheng's job presents are varied, according to Dr. Socheat.
"It could be an infection of the skin, of the lungs or the airways, it could affect the digestive system all just from exposure," he warned. "It could be a radioactive substance that can be silently harmful, it could be a chemical drug that is inhaled, it could be bacteria, a virus and they can lead to some serious infections."
The only solution Dr. Socheat could offer is for Sokheng and his team to make sure they're correctly using personal-protective equipment (PPE) and taking precautions.
Isolated in the Family Home
Relieved by the doctor's findings, Sokheng headed home. But even though his working day was done, the specter of Cambodia's medical waste lingered over him.
Family life has grown fraught over Sokheng's work, which has become the sole source of income for the household since his wife's silk weaving business lost most of its customers due to the pandemic.
To prevent infection, Sokheng has not slept or eaten in the same room as his family since the pandemic began.
"Now, I feel like a lonely person, eating alone, no communication: We always keep our distance as I face these risks," he said. "My family, my friends and my neighbors, we always keep our distance."
Even entering the house requires Sokheng to spray himself with sanitizer and to remove his uniform at the door before going to wash himself. All the while a mask covers his face as his wife, Phay Sophoan, watches from the other side of the room.
It has been this way for more than 18 months.
"I've had to tell my children because we were close to each other before, but now we can't be and I had to explain to them that it's not their parents' fault," Sophoan said. "I don't want them to be angry or sad about it."
She admitted that she has tried, without success, to convince Sokheng to quit his job and find other work. And yet, she remains proud of her husband's role in fighting the pandemic in Cambodia.
"I do feel proud of my husband, though, because not many people can compare to him: He helps society," she said as Sokheng returned to sit across from her in their living room. "If I didn't allow him to do this work, then who would do it if nobody allowed it?"
There is a shared sense of responsibility among those responsible for safely disposing of Phnom Penh's medical waste and, while Sokheng makes up part of the small team responsible for incinerating the waste, the collection teams spend each day driving around the city, going from hospital to health center and piling up used medical equipment and waste in their trucks.
Forgotten Frontline Workers
Sar Saroeun is one of the three men assigned to a truck. At 7 a.m. on each working day, the team is prepped with PPE and rolling out from the Medical Waste Management Unit's facility in Dangkor District. This has been his daily life since 2008, making him the senior member onboard.
"I really hope that the COVID-19 pandemic ends soon," he said as the truck hurtled towards its first stop of the morning: The Khmer Soviet Friendship Hospital, one of the city's largest treatment centers for COVID-19 patients.
"Since the COVID-19 outbreak, I have to do a lot more work than before and I feel tired all the time, so I wish that COVID-19 would end so I can relax more and focus on my work with regular medical waste," said a visibly weary Saroeun.
Paradoxically, he noted, there is both a greater need for caution and an increase in the volume of waste and therefore work, which he fears makes potentially dangerous mistakes more likely.
Saroeun's gloomy mood appeared to be affecting Proung Samrath, who, at 21, is the youngest member of the team and joined the Medical Waste Management Unit in the final months of 2019—just prior to the pandemic exploding across the world.
"Since it [COVID-19] reached Cambodia, we've had no time to rest," Samrath said. "We work Monday through Sunday, there are no breaks, we eat in the truck and, every single day, we are all worried and anxious all the time.
"I only took this job because of my family's debt," he said. "[I]t pays better than construction, but now I barely see my family because they're afraid I could infect them."



The team arrived at the Khmer Soviet Friendship Hospital where a mountain of yellow biohazard bags awaited them. Immediately, they began the laborious process of suiting up in PPE.
When dealing with COVID-19 waste, the Medical Waste Management Unit has strict rules and procedures: Don't touch it without the boots, gloves, goggles, visor and the white biohazard suit, which is then taped up around the sleeves and ankles in a bid to render it airtight.
On days when items of the PPE suit are missing, the team is forbidden from collecting, meaning that the medical waste—already accumulating faster than it can be collected—has to be held by the hospital until the following day. These things happen, Saroeun explained.
The three PPE-clad men loaded up the truck, explaining that today's haul from the hospital was larger than usual, and so would have to be taken back to the Medical Waste Management Unit's facility to be incinerated before they could collect at other locations. This, Samrath said, meant the day would be even longer.
"Some people, they get it, they understand the risks we take doing this, but most people don't value our work," said Samrath, adding that medical waste collectors are rarely seen as frontline workers in Cambodia.
Back at the site, Sokheng was already waiting for the collection team when they arrived and started unloading the COVID-19 waste. As the collection team unloaded it, Sokheng and his team fired up the incinerators and stepped into their PPE suits.
Samrath hurled bag after bag onto an ever-growing pile of garbage bags, some of which had split. Glass vials, bloody IV bags and an avalanche of gloves, masks and hospital gowns all spilled out into the container from which Sokheng and his team were collecting them and taking them over to the incinerators. Set to between 1,200 and 1,500 degree Celsius, the heat should destroy any trace of infectious waste.
Understaffed, Overworked, Under-funded and Ill-Equipped
Over the course of the pandemic, the Medical Waste Management Unit has managed to upgrade the team's PPE. Prior to the large-scale community outbreaks in Cambodia, the team had complained of inadequate protection, often having to share boots and reuse flimsy rubber gloves while handling medical waste by hand.
But even with the new protective suits, Sokheng remains unnerved by the sheer volume of COVID-19 waste piling up and the risks it could pose to him, his team and their families.
"About 70 percent of this is COVID-19 waste," he said, motioning to the mound of trash that overflowed from the open waste containers positioned in front of the incinerators. "The other 30 percent is regular medical waste."
Even in the vaunted warehouse where the incinerators are set up, the heat and the stench were formidable, and the air rapidly became thick with smoke as Sokheng was throwing bags of waste into the flames.
"It's really hard because these suits are really hot, I can only stand it for 15-20 minutes at a time," Sokheng said. "If you wear it for more than that, it can make you lose consciousness."
When he was done, he threw the entirety of his suit into the furnace after the waste. Due to the volume of waste Phnom Penh is generating because of the pandemic, he repeats this process at least 20 times a day.
"Since the COVID-19 pandemic began, our incinerators have been breaking down a lot: Because there is too much waste, they are working too long and break a lot as a result," explained Sokheng, adding that the two incinerators—one French and one Chinese—are six and seven years old respectively.
Requests for technological upgrades have so far gone unheeded, but that has not stopped So Simarong, deputy director of the Medical Waste Management Unit who has been with the organization since it was founded in 2008, from filing requests.
A former Ministry of Interior official, Simarong chose to work with the unit instead of taking retirement and has persistently called for greater support from the Cambodian Red Cross, the government and international donors, but so far to no avail.
"I don't criticize the government, but they don't care much," Simarong said while inspecting the site. "I dare to speak the truth: The government does not care about me."
The Medical Waste Management Unit is, in essence, the money-making wing of the Cambodian Red Cross, which forms the national chapter of the International Confederation of Red Cross and Red Crescent Societies.
Simarong's team charge hospitals and health centers a fee to collect their waste; the fees are determined by the Ministry of Health and based largely on the number of beds each facility has. Private healthcare facilities typically pay more, Simarong said, but all the money goes back to the Cambodian Red Cross, which in turn pays the salaries of the Medical Waste Management Unit, keeping anything left over for its charitable work—overseen by Prime Minister Hun Sen's wife, Bun Rany.
The arrangement had worked fine until COVID-19 struck and Simarong's staff became too afraid to do their jobs and threatened to walk out. Simarong has worked hard to secure better conditions for his team. "Nowadays, they get a little more money, it's still not much," Simarong said. "Some accept it and some don't. We gave them 30,000 riels [$5] a day to add on top of their salaries."
The base salary for most frontline staff is just $250, Simarong said. "We still don't have enough workers so we have to hire outside people to work each day," he added.
Chin Buntoeurn, who heads the capital's branch of the Cambodian Red Cross, repeatedly declined to speak to reporters on the threats facing the Medical Waste Management Unit as workers go about their daily duties.
Government Allergic to Criticism on COVID-19
Simarong railed against the carelessness of healthcare professionals who overload bags of medical waste, fail to separate it properly or correctly label sharp waste. He has helped steer his team through crisis born of PPE shortages, staff shortages, longer hours and outdated technology as the pandemic has ravaged the world. But he is nearing the end of his tether.
"If I can't handle it, I will resign," Simarong said flatly. "If the government brings in other measures, then maybe my team won't have to deal with so much, …if the government says we have to keep doing it and they will support us in getting a new incinerator, increase our salaries and protective materials, we will be determined to work. But if they don't care, like now, we will not."
Another problem, Simarong explained, is a general lack of awareness of medical waste disposal throughout Cambodia. Hospitals and health centers still game the system and attempt to get out of paying the Medical Waste Management Unit by illegally dumping their waste.
This problem, he suspects, is likely happening on a much larger scale in Cambodia's provinces, as his team only works within Phnom Penh. Beyond the capital's borders, the issue of medical waste management remains something of a mystery.
Ministry of Health officials from 11 of Cambodia's 25 provinces and nine directors of provincial referral hospitals were contacted by reporters to discuss medical waste management, but all declined to speak on the record.
The Ministry of Environment in August 2021 reported that quarantine centers nationwide were generating 100 tons of medical waste each day and that 50 incinerators had been installed in 21 provincial towns to handle this. However, the number of pre-existing incinerators equipped to deal with medical waste remains unknown.
Numerous healthcare professionals have been fired for speaking out against the government's COVID-19 response. One official in Preah Sihanouk Province claimed that medical waste was being mixed in with municipal waste in the Sihanoukville landfill site, but was not prepared to speak further on the matter.
Neither were the waste management companies themselves, with Global Action for Environment Awareness (GAEA) and Cintri—two of the largest private waste collection companies in Cambodia—declining to comment on the prevalence of medical waste at their landfills or the risks this could pose for their staff.
Saroeun, of the collection team, used to work for Cintri before he joined the Medical Waste Management Unit and spoke of seeing medical waste dumped on the streets. But Saroeun added that this was more than a decade ago and that he believes things have somewhat improved in Phnom Penh since.
Evidence gathered by reporters suggests that employees of private waste management companies also collect recyclables to be sold. When asked whether he thought it possible that one of his own employees could be selling plastic medical waste, Simarong replied "This could still be true, although we forbid them."
Dr. Li Ailan, World Health Organization representative in Cambodia, declined to speak on the issue, and Or Vandine, spokesperson for the Ministry of Health, could not be reached despite multiple attempts to contact her.



Falling Through the Cracks
While the Medical Waste Management Unit is stretched thin over the city, collecting from more than 50 hospitals and health centers daily, there is an overspill of medical waste that is collected by a different group of workers.
Informal waste scavengers, known locally as edjai, scrape a living by combing the streets for recyclable waste—plastics, metals, glass and cardboard—but more recently they have seen an increase in the volume of medical waste appearing in bins and garbage bags, particularly outside the capital's healthcare facilities.
An edjai for more than 10 years, Phom Lay Eang says that plastic syringes, IV bags and drip tubes all used to make their way back to her home on Koh Dach, an island across the Mekong River from Phnom Penh.
"I used to collect it a lot, it was just dumped outside the hospitals," she said. Each kilogram of plastic waste earned her 400 riels—roughly $0.09—and so she mixed in the medical waste with other plastics to be sold to a bigger edjai.
Lay Eang recalled collecting waste one night with her husband in Phnom Penh's Russei Keo District. When she began to rifle through a garbage bag outside a hospital, security guards told them to be careful, saying that COVID-19 patients had been treated there and that the waste could be contagious.
Since then, she has been more cautious. But already living on the fringes of poverty, Lay Eang has struggled to get by in the face of COVID-19 restrictions that have seen bars and restaurants close, resulting in far less waste to collect and sell on.
This desperation has led some edjai to take greater risks. An official at the Koh Dach Health Center who declined to be named explained that, earlier in 2020, more edjai were taking medical waste from outside the center. In response, the health center purchased an incinerator to destroy the sought-after plastics.
After repeatedly explaining the risks to the edjai of Koh Dach Commune in the capital's Chroy Changva District, the problem reached a point where the health center had to ban edjai from entering the premises, except for medical treatment.
While numerous edjai interviewed maintained that they no longer collected medical waste due to the risks and its low value, Tith—one edjai who requested his full name not be published—said that hospitals are still profitable places to collect from, if you have the right connections.
"There's not much medical waste left at the hospitals, some of the bigger edjai buyers bid for it," he explained, claiming that people in hospitals are selling plastic medical waste in bulk to edjai buyers in Phnom Penh.
He was unable to identify either the hospitals or buyers allegedly involved, but claimed it was a longstanding deal that made certain healthcare facilities unprofitable places to collect from for most edjai.
Cambodia's Lack of Recycling Facilities Breeds an Informal Export Economy
Once the edjai have collected a suitable amount of waste, it is sold to bigger buyers. Often, the bigger edjai buyers have their own scales and compressors that turn sacks of cans or bottles into tightly packed cubes of recyclables, with tons held onsite at any given time.
However, the pandemic has produced a different set of problems for these bigger buyers like Ung Kheata, who has seen the value of recyclables plummet in response to international travel restrictions and border closures.
"The problem was that the big buyers couldn't export to Thailand or Vietnam during the first COVID-19 outbreak, the borders were closed, but now they can export again [and] the prices have gone back up," she said.
Kheata said she has also seen a shift in the willingness of buyers to take medical waste, but added that she never liked buying it from edjai lower down the waste management chain.
"In the past, I'd bought it once or twice, but when I tried to sell it, big buyers wouldn't take it, so I stopped taking it," she said. "No, I don't collect medical waste—it's a fragile plastic material, ​​​​​​it's cheap so I don't take these kinds of things—even if I tried to sell it to others, no one would buy it."
By Kheata's estimates, she earns roughly 2 million riels (about $500) per day, but spends at least three quarters of that amount buying waste from other edjai. She suggested that bigger buyers, the ones who can export the waste across borders, are making even more money.
Tracking Cambodia's waste exports beyond its borders—a necessity that reflects the underdeveloped recycling capacity of the country—is challenging and obfuscated by bribery, informal border crossings and a lack of official data.
While the Vietnamese authorities stick to a 2 percent contamination rate among officially imported recyclable waste, Quach Xuan of the Vietnam Zero Waste Alliance warns that the Vietnamese province of An Giang—which borders Cambodia's Takeo Province—is a hotspot for illegal waste smuggling.
"The government gives permission for families there to collect waste, but only inside Vietnam," she said. "So those close to the border bring it over piece by piece so it looks like domestic waste and it's very hard to stop.
"If customs officials are at the right part of the border at the right time, they can stop it, but it's a big border," Xuan added, noting that the restrictions on the import of waste have forced illegal dumpers to adapt.
Xuan also suggested that it's quite probable that medical waste from Cambodia is being smuggled into Vietnam through the informal waste management sector, but reliable data is sorely lacking.
Back on the streets of Phnom Penh, it becomes easier to see how medical waste ends up on these journeys. On St. 262, in Daun Penh District, blood-soaked plastic tubing was recently sitting in an open bag outside the La Sante Medical Center. When reporters attempted to speak to the clinic's management, security guards stepped in and requested that COVID-19 tests be taken to enter the building.
Upon agreeing to take tests, reporters were then flat out denied access. However, employees of the clinic who preferred to remain anonymous confirmed that the bloodied medical waste left out on the street was in fact a by-product of their clinic, adding that it would be collected "sometime in the next three days" by the Medical Waste Management Unit.
Mismanagement Putting Human and Ecological Health at Risk
Further out of the city center, in Stung Meanchey District, face masks do little to protect against the stench of decaying trash that bobs along the stagnant waters of the canal, which runs all the way through Phnom Penh to Kandal Province. Almost hidden among the flotilla is a bright yellow biohazard bag that has been carried downstream.
The desecration of one of Phnom Penh's many waterways has not escaped the ire of Heng Kimhong, a researcher with the advocacy group Cambodia Youth Network that has repeatedly attempted to clear the Stung Meanchey canal of its trash.
"In 2018, we leased a boat and, working every evening, it took us three months to clear a kilometer of the canal," he said, adding that the rainy season sees the canal's water level swell, which collects more waste dumped by households who live along the waterway.
This, combined with the often erratic and inefficient waste management systems that govern the city, is what makes it so hard to keep Phnom Penh's waterways clear of trash, Kimhong explained. He has seen firsthand the illegal dumping of medical waste, and recently, with the sheer volume generated by the pandemic, the canal is now becoming a toxic body of water, he said.
"Honestly, it's really shocking—we don't know when this problem will be fixed and living with this waste is a threat to human health, but due to the issue of livelihoods, many people have no choice but to live like this," Kimhong said, noting that the illegal dumping of waste—medical or otherwise—poses a long-term environmental threat to Cambodians.
During the interview, Kimhong noticed that he was being watched. Security forces were observing him as he was pointing out the numerous environmental problems that the city's haphazard waste management system is guaranteed to create.
"Even though I work in the environmental sector, when we raise these issues or voice concerns, whether it's waste management or something else, the government never seems happy when these problems are highlighted by the media, as it causes them to lose face," he said, citing the jailing and sentencing of Mother Nature Cambodia activists earlier this year as they sought to raise the alarm over environmental degradation. "The government seems to value their reputation over focusing on providing public services to citizens."
The government's heavy-handed approach to environmental defenders has deterred many from participating in what has become regarded as vital activism in the face of a rapidly shifting climate and a planet at risk of becoming uninhabitable due to human behavior.
"It's hard to say that there is freedom of participation in environmental protection," said Kimhong, pointing to a cluster of men in civilian clothing. "We're only talking about the waste problem, but we're already being watched now."
Even the visible presence of government security forces has not discouraged Kimhong from doing his work. As he explained, he is now used to being treated as "a form of opposition" for his environmental research, which he concedes has become a sensitive topic in Cambodia.
"You can see that all this waste, like plastics, won't disappear tomorrow or next year: It takes many years to degrade completely," Kimhong said. "It means that the waste becomes a problem inherited by the coming generations, because this waste will live much longer than humans."
Medical waste, he added, increases the threat posed by the buildup of garbage and introduces new chemicals and bacteria into an already fertile breeding ground for disease. This, Kimhong fears, could easily lead to the infection of animals.
"Many infectious diseases can be caught by animals, which can give those diseases a chance to mutate in animals," he said. "For example, we know that the COVID-19 pandemic could have originated in animals…Animals can help transform a virus, so medical waste that contains chemical substances or infectious materials could later create different illnesses and this could really affect trash collectors and the edjai."
Taking Responsibility
It's edjai like Nhoem Tol and her husband who scour the canal for saleable trash and are put at risk by the illegal dumping of medical waste.
"For syringes and IV drip bags, I don't take it now because I'm scared of infection from diseases: It's disgusting," Tol said. But she admitted that she used to scavenge through the trash left outside of quarantine centers and COVID-19 treatments centers to find plastic that could be sold.
Tol was sitting in the back of her cart with a makeshift hammock above her holding one of her children asleep while her eldest son scouted around the canal banks for discarded cans and plastic. Her husband stood atop a rented boat, fishing bags out of the canal with a hooked stick and carefully investigating the contents of each one for anything valuable.
"I only took things like syringes, IV drip bags, other plastics, that's what I needed," Tol explained. "The bigger buyers also accept them as plastic, they'll take the soft plastics, but not the hard, low-grade plastics that they won't buy. The IV bags are soft plastic though, so I used to take them."
There are an estimated 3,000 edjai working in Phnom Penh, but national data remains incomplete due to the highly informal nature of their work. With no formal residence or employer, the fate of Tol's family and others doing this work is determined by what they can scavenge and sell. But the pandemic has made collecting valuable waste harder and put her findings under the increased scrutiny of some of her buyers who have since refused to purchase medical waste.
Less scrupulous buyers, however, continue to buy medical waste, according to Tol.
"After they [buyers] got stricter on the plastic quality, they stopped accepting flimsy plastics, but some people still try to cheat by mixing it in with other plastics," she said, adding that some buyers still accept medical waste, provided it's clean.
For activists like Kimhong, the struggle to bring about change has been hampered by the COVID-19 pandemic, which he feels has pushed environmental issues to the backburner and at the same time generated more waste, and particularly harmful medical waste.
Whether Cambodia can rise to the multifaceted challenge medical waste poses remains to be seen, but Kimhong was eager to impress upon the public the role they can play in keeping others safe.
"This is a collective duty involving everyone: the government, private companies and people themselves who create waste each day," he stressed. "We cannot leave the responsibility to just one person to deal with the management of waste. But without stricter mechanisms and discipline in the implementation, like punishments and warnings regarding the dumping of waste into rivers or canals, [nothing will change].
"So, we need private companies to be held accountable and work with a higher level of responsibility when collecting trash," Kimhong said.
Related Articles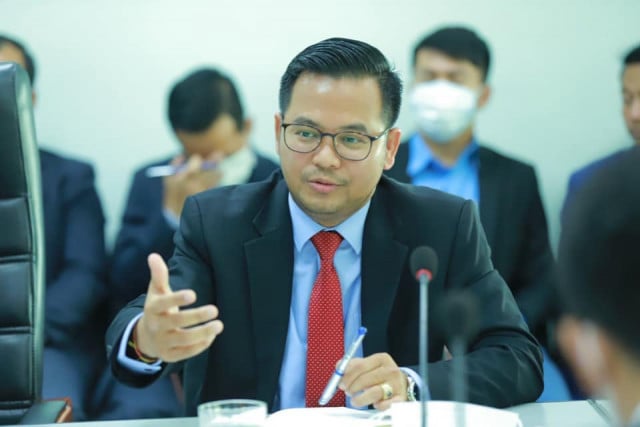 September 24, 2021 11:02 AM