Proposed Internet Firewall Lambasted by Critics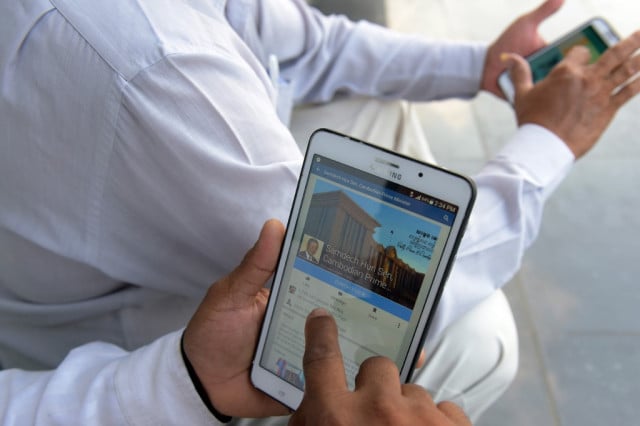 Gerald Flynn
September 29, 2020 4:12 AM
From the business community to academics and civil society, the proposed sub-decree on the National Internet Gateway has prompted fears over restrictions on Cambodia's development.
PHNOM PENH--The Ministry of Post and Telecommunications' proposed sub-decree on a National Internet Gateway has been roundly denounced by a wide range of critics who voiced concerns over the impact the law could have on innovation, research and free speech.
The sub-decree, which was drafted in July 2020 and discussed with telecoms operators on Aug. 4, is yet to be signed, but has already been met with criticism from a business, academic and human rights perspective.
While it is unclear what new powers, if any, the sub-decree would grant the government, there is an evident lack of support for the proposed policies. Should it see the light of day, the sub-decree would force internet providers to route all online traffic through the proposed National Internet Gateway—a regulatory body that will monitor online activity to enhance "National revenue collection, protection of national security and the assurance of social order," according to Article 1 of the sub-decree.
While the proposed gateway would be run by government-appointed operators, said operators would be legally required to report to the Ministry of Posts and Telecoms, as well as other "relevant authorities" when it comes to unfavorable online activities.
According to Article 6 of the sub-decree, the operators would be expected to "…take actions in blocking and disconnecting all network connections that affect safety, national revenue, social order, dignity, culture, tradition and customs," but nowhere in the draft sub-decree are these terms expanded upon.
Earlier this year in April, the government signed a controversial new Law on the Management of the Nation under a State of Emergency. This law prompted fears over the use of vague language surrounding national security and social order, with civil society organizations campaigning for its repeal due to the overwhelming array of new powers the law granted the government.
Similarly, in August 2020 the government released a draft of the proposed Public Order Law, which aims at regulating behavior and appearance in public, but threatens to outlaw protests altogether. Again, the language employed remains vague and undefined, which critics warned could be used to silence dissent and restrict the freedoms of Cambodians.
This all comes against the backdrop of a very public crackdown on freedom of expression and association. Throughout 2020, the government has detained, harassed and attacked a range of political activists, environmentalists and critics as protests have grown in size and frequency. Prime Minister Hun Sen personally called for the arrest of anyone criticizing his handling of the situation at the Vietnamese border, which is currently being demarcated.
Between July 31 and Sept. 10, some 19 activists, artists and human rights defenders have been arrested and many now face lengthy prison sentences after being charged with incitement or plotting against the government.
Restrictions on the Streets and on the Screens
At a time when Cambodians face greater threats for exercising freedoms in the street, the government's proposed sub-decree on the National Internet Gateway seeks to restrict activities online.
Josef Benedict, a civic space researcher working for CIVICUS in the Asia-Pacific region, explained why he feels the sub-decree is less concerned with safety and more focused on stifling debate and silencing dissent.
"CIVICUS, the global civil society alliance, is extremely concerned that this proposed sub-decree on a 'National Internet Gateway' will be yet another tool in the repressive legal framework that Hun Sen's regime has adopted over the last few years to restrict civic freedoms," said Benedict in an email interview. "We believe the decree, currently being bulldozed through during a global pandemic, is clearly aimed at censoring critics, controlling the narrative and blocking the critical flow of information online into the country."
This, he added, fits within the context of Cambodia where he said the government's attacks on critics have been ratcheting up. Cambodia is rated as "repressed" by the CIVICUS Monitor, a tool that tracks threats to civil society in countries around the world.
Benedict added that he was especially concerned by Article 6 of sub-decree.
"Such provisions are excessively vague and so broadly defined they can easily serve as a catch-all to block or shut down websites and take action against those who violate the law," he said, adding that they are inconsistent with the International Covenant on Civil and Political Rights which Cambodia ratified on May 26, 1992.
Research from CIVICUS has found censorship to be the most common civic space violation in Asia, with some 20 countries suffering through draconian censorious regimes. China, Benedict noted, continues to be the main offender, particularly due to the heavily controlled internet that Chinese citizens are limited to.
"We have seen in recent times that where China leads, other states in the region follow, so it is no surprise that Cambodia is trying to replicate this Chinese-like firewall as part of its technology of repression," he said, adding that Vietnam, Thailand, Myanmar and Singapore have all tightened their internet laws to silence freedom of expression online.
Despite multiple requests for comments sent to no less than four spokespeople from the Ministry of Posts and Telecommunications, only Meas Po offered any insights into the proposed sub-decree.
"As a recommendation of the minister not to talk about it yet—as it's still a draft, meaning it will change when officially released—this sub-decree does not restrict the users' rights, it's just to manage the internet gateway," he said.
Ramping up Digital Surveillance in Cambodia
While Cambodia's political and civic spaces have long been condemned under Hun Sen's many-decade rule, online freedoms have not been so badly affected—until now. US-funded NGO Freedom House listed Cambodia as "Not Free" in their 2020 Freedom in the World report, which measures numerous variables related to civil liberties and political freedoms.
According to Freedom House, Cambodia's liberties have deteriorated between 2019 and 2020, but the NGO's Freedom on the Net report from 2019 saw Cambodia score 45 out of a possible 100 and was listed as "Partly Free."
"In a rigged election environment characterized by blocked websites and increased intimidation, internet freedom continued its downward trajectory in Cambodia," Freedom House wrote, noting that, in the run-up to the 2018 elections, independent news sites were blocked, with a culture of self-censorship pervading online activities due to the harassment and jailing of social media users who criticized the Hun Sen government.
As deputy-director of Human Rights Watch in Asia Phil Robertson explained, the impact of the proposed National Internet Gateway goes beyond just freedom of speech.
"Judging by this draft sub-decree, and other actions the government has recently done to arrest activists for what they said, the government appears focused on wiping out freedom of speech and creating a truly Orwellian 1984 scenario, where Hun Sen plays big brother in the TV and behind the internet based technology that people have in their everyday lives," he said.
Robertson drew on comparisons between the sub-decree and Thailand's 2015 proposed single internet gateway that abandoned after a barrage of criticism from people and the business community. Effectively, Robertson said, the sub-decree would not only allow for greater censorship online, but also the slowing of internet connections for critical organizations presents further threats to civil society and the independent media.
Article 12 of the proposed sub-decree authorizes the blocking of any content that goes against "safety, public order, dignity, culture, tradition and the customs of society" but again lacks any explanation of what falls under these terms.
"All this means the Cambodian government can block anything it wants for whatever reason it wants to invent—which is typical bad, rights-abusing Cambodian law drafting that provides maximum discretion and minimum oversight of government officers who will be tasked to implement this law," lamented Robertson, who also cited inconsistencies between the proposed law and the international treaties that Cambodia has ratified.
"This is a situation for real alarm that the international community should urgently respond to, along with business interests and chambers of commerce, rights activists and other affected groups," he said, adding that high rates of corruption and existing infrastructure problems already make Cambodia a hard place for foreigners to invest in.
"Adding this censorship and control gateway will make it even less appealing for those considering coming into the country," he concluded.
Potential of the Digital Economy at Risk
Cambodia has long enjoyed an open economy, with foreign direct investment (FDI) growing—notably from China—in recent years. While investors have often complained about the inefficiency and corruption of the administration, particularly when it comes to setting up businesses, there are now serious concerns that the proposed sub-decree could stifle Cambodia's burgeoning digital economy.
However, the proposed National Internet Gateway mirrors in many ways the infamous 'Great Firewall of China.' From 1987, when the first email was sent in China, to the early 2000s, China's internet remained relatively open and served as a platform for dissent in an otherwise politically closed space. Under President Xi Jinping's leadership however, the internet has become markedly less safe for Chinese dissidents and the impact of the Great Firewall has been well-documented.
While Xi has been ultimately successful in his goal to manipulate the flow of online information in China, the initial introduction of the Great Firewall prompted outcry from scientists who saw the loss of access to international resources as a step backwards.
Recent years have seen Cambodia's government touting the potential of the digital economy, investing heavily into Industry 4.0 initiatives and developing funds to assist e-commerce enterprises. While the COVID-19 pandemic has perhaps stymied the government's ability to further develop digital infrastructure and e-commerce ecosystems, many digital businesses in Cambodia are reporting a huge uptick in online sales.
Indeed, a recent report from the UK and Australian government-backed Supporting Economic Transformation (SET) program pointed to Cambodia's digital economy as a potential path to economic recovery in the wake of the pandemic.
"Cambodia stands well placed to leverage new opportunities from the digital economy; mobile telephony costs in Cambodia are among the lowest in the region; post-paid computer-based mobile broadband prices are the lowest worldwide; and recent developments in the telecoms infrastructure have further enhanced the competitiveness of the IT sector to position itself as a new place for outsourcing and innovation in the region," SET wrote.
But as commendable as Cambodia's improved infrastructure has been—internet penetration among 15-25 year olds reached 87.5 percent in 2018—the introduction of the National Internet Gateway poses a risk to the realization of the potential that Cambodia has to offer.
"My concern is that the proposed tools do not slow down the future of the digital economy and workforce in Cambodia," explained Chris McCarthy, chair of the ICT Committee at the European Chamber of Commerce.
"Our company supports international businesses including Accenture, Google and SAP, and the work we do requires a fast internet connection—the kind of system that is proposed will for sure impact speed, so from the private sector perspective there's a concern about that," he added in reference to Mango Tango, the digital and creative agency where he serves as chief executive officer.
McCarthy cited online media buying as one example where the proposed legislation would have a significant impact. Online media buying is how adverts are placed onto websites, social media and other digital platforms and they usually happen in auctions that happen in real-time.
"These auctions must complete within 100 milliseconds, most monitoring systems like the one being proposed in Cambodia will add 200-300 milliseconds to internet speeds, and sometimes more—so this means Cambodia risks being cut out of some aspects of the global digital economy, if the speed is degraded," McCarthy warned.
Further Censorship will Harm Academic Research
These concerns were echoed from an academic standpoint, where Kimkong Heng, a PhD candidate at the University of Queensland and visiting senior fellow at the Cambodian Institute for Cooperation and Peace, warned that restricting Cambodia's internet access would have multiple knock-on consequences. These consequences, he suggested, will be exacerbated by long-standing issues stemming from the country's governance.
"Currently it's hard to say how this law will affect research," said Kimkong, who is also co-founder of the Cambodian Education Forum. "However, when the law is in place, researchers will certainly increase their self-censorship to avoid any negative consequences that might occur to them."
Kimkong is concerned that this, like it did in China, will further restrict academic freedoms in Cambodia—freedoms that he added remain very limited at present.
"Thus, when academics resort to self-censorship, it will affect the quality of their research, which in turn will have a negative impact on the prospects of innovation, development, and so on," he said.
He went on to fit the National Internet Gateway sub-decree into the broader legislative picture that has emerged over the course of the year, citing the public backlash and international condemnation of both the State of Emergency Law and the Public Order Law.
"Overall, we can see the trend of more restriction and control," he observed. "All these three laws are linked to national security and public order, [which] to me, it's like preparation for the future—the government seems to realize that more and more people are not happy with how it leads the country."
While Kimkong conceded that there has been remarkable socioeconomic progress in Cambodia, he noted that many issues such as corruption, nepotism, the lack of transparency and judicial independence hamper national development.
These unresolved problems have long been met with international ire, but Kimkong warned that enacting the sub-decree would further isolate Cambodia from Western powers by further cementing the perception of Hun Sen edging closer and closer to outright authoritarianism.
"In one way or another this law, if passed, will impact the viability of tech companies and entrepreneurs in Cambodia," he said.
Between the weak court system and the ubiquity of cronyism in Cambodia, he suggested that the law could be used against tech companies who don't toe the line. In effect, it would legitimize the existing realities of doing business in Cambodia, he said.
"The law once passed will create an internet firewall, potentially developing into something similar to China's Great Firewall, [which] could be the beginning of internet censorship," said Kimkong. He stressed that the future remains uncertain, even if recent developments have led to a more restrictive environment for Cambodians both on and offline.
No New Powers Granted
Speaking to Cambodianess on the condition of anonymity, another member of the business community argued that the sub-decree may be worrying, but that this is by no means the beginning of internet censorship in Cambodia—he pointed to the flagrant invasions of online privacy undertaken by governments around the world.
"Obviously it's worrying, but another point of view that is perhaps more realistic and slightly cynical is that, with examples like Edward Snowden, we know that European and the American governments are doing this and they're not even saying it—we know it's been like this for years—China has the 'Great Firewall.' So when you have a government very publicly saying that we're going to have a firewall like the Chinese, you have to ask why they are signaling—that's pretty unusual," he said.
While he predicted a very limited impact on economic activities, he explained that the sub-decree would bring about little change legally—instead it may alter the way people behave online.
"They're basically saying 'don't do it, we will catch you,' do I think it will have an impact on our business? I highly doubt it, Cambodia does not have the resources to have level three or level four data centers. So I don't think the government will want to restrain the economy—especially in during the COVID-19 pandemic," he added.
"The fact is though, this law brings nothing new—they're just signaling. I think it's signaling so that people put in place a level of self-censorship, why else would they signal like this?" he asked. "You'd have to be naïve to think that other governments aren't doing this and frankly, this doesn't add any powers to the government. They're already doing this: monitoring social media for keywords, monitoring activists and so on. It's nothing new."
Related Articles