Supreme Court Rejects Appeal of Two Former RFA Journalists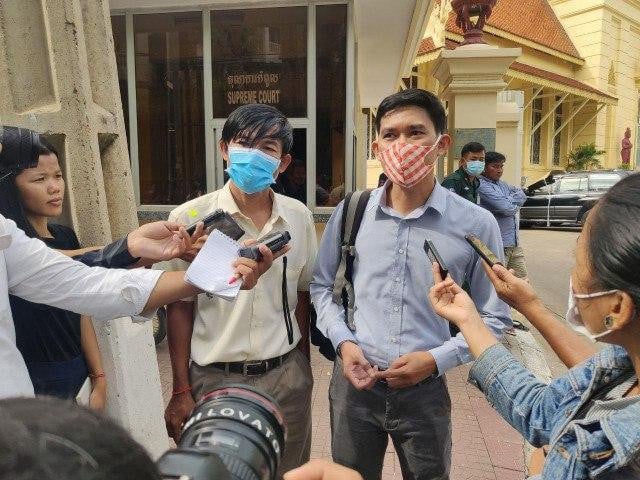 Phoung Vantha
October 27, 2020 10:12 AM
Former Radio Free Asia journalists Uon Chhin and Yeang Sothearin had appealed against a lower court's decision to reinvestigate their case, but on Oct. 27 the Supreme Court rejected the pair's appeal.
PHNOM PENH--Cambodia's Supreme Court on Tuesday (Oct. 27) rejected the appeal of Uon Chhin and Yeang Sothearin—two former Radio Free Asia (RFA) journalists—and upheld the lower court's decision to reinvestigate the reporters' case.
It took six days of hearings, but Presiding Judge Nil Non decreed the lower court's verdict as legally binding. Cambodian prosecutors will now begin to search for new evidence against the journalists.
They stand accused of espionage for allegedly passing sensitive information to foreign powers in November 2017, but then were additionally accused of producing pornography in March 2018. For almost three years both Chhin and Sothearin have had their freedoms restricted due to the inability of Cambodia's judicial system to come to a verdict.
The Cambodian Center for Human Rights (CCHR) issued a statement on Oct. 27 describing the Supreme Court's decision to allow prosecutors to reinvestigate the case as "shameful."
"CCHR expresses its frustration at the continued judicial harassment of the pair, who still have not received a definitive verdict nearly three years since their original arrest in November 2017," said CCHR's Executive Director Chak Sopheap, adding that Chhin and Sothearin's trial had been delayed by procedural anomalies and arbitrary decisions.
These delays, Sopheap stated, are in violation of numerous fair trial rights—namely the right to be tried without undue delay, the presumption of innocence and the right to liberty.
"The continual failure of the court to reach a final verdict is indicative of a lack of credible evidence against the pair, and the charges should be dropped," she said. "Not only have fair trial rights been flouted, but the pair should never have been arrested in the first place."
"Journalism is not a crime, and this trial is a blatant affront to freedom of expression and media freedom, forming part of a pattern of arbitrary and retaliatory prosecutions of critical voices in Cambodia," Sopheap argued.
Meanwhile Nop Vy, executive director of the Cambodian Journalists Alliance (CamboJA), said that the Supreme Court's decision defied expectations. He said that he thought the former RFA journalists would have received justice and freedom by now and added that continued proceedings against them creates obstacles to their ability to work as journalists.
Both Chhin and Sothearin were released on bail in August 2018, but with severe caveats on their freedom. They both remain under the court's surveillance, as such neither can change their address, travel abroad and are both required to check in with their local police stations on a monthly basis.
Sothearin has previously complained about the limitations the ongoing court case has inflicted on his work and was forced to miss the funeral of a family member due to travel restrictions imposed upon him by the courts.
Phnom Penh Municipal Court decided to reinvestigate their case on "illegally gathering information for a foreign source" on Oct. 3, 2019. The pair filed a lawsuit with the Court of Appeal, who rejected the motion on Jan. 28, 2020.
Earlier this year, on July 15, the Supreme Court upheld the Court of Appeal's interlocutory judgment against the two in relation to the separate charges of the production of pornography under Article 39 of the Law on the Suppression of Human Trafficking and Sexual Exploitation.
Spokesperson for the Ministry of Justice Chin Malin could not be reached for comments and did not reply to questions about the length of the trial or Chhin and Sothearin's future.
Related Articles