COVID-19 Outbreaks Highlight Urgency of Prison Reforms in Cambodia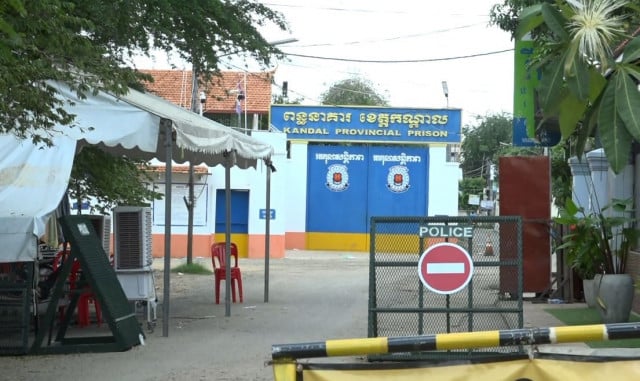 Gerald Flynn & Phoung Vantha
May 31, 2021 5:01 AM
Hundreds of confirmed COVID-19 cases reflect the urgent need for solutions to overcrowding in prisons, rights advocates warn, but the government appears to be downplaying the crisis.

PHNOM PENH--Over the course of May 2021, the fear that COVID-19 would breach Cambodia's prisons was finally realized, but despite being warned of such a possibility for more than a year, the government has so far refused to explain its response to the crisis or detail the exact number of cases found within the penal system.
This has prompted concerns among rights groups that COVID-19 is going unchecked through Cambodia's gravely overcrowded prisons and that cases are not being reported.
"We continue to receive alarming reports of rising COVID-19 cases in a number of Cambodian prisons, including Preah Sihanouk, Banteay Meanchey, Kampong Speu, Correctional Center 1, Correctional Center 2, Phnom Penh Jail and Kandal prisons," said Ming Yu Hah, deputy regional director for campaigns at Amnesty International.
"We have received credible reports that some prisons have at least several hundred cases recorded each, including Phnom Penh Jail and Preah Sihanouk, and that the true numbers of cases in several other prisons are significantly higher than the authorities have acknowledged to date," said Ming Yu, adding that the government's lack of transparency over the outbreaks makes it difficult to verify the numbers.
It began on May 8, when Preah Sihanouk Provincial Prison reported 34 cases of COVID-19 among inmates. While the origins of the outbreak were never made clear by the authorities, spokesperson for the Interior Ministry's Prison Department Nouth Savna said that new inmates were temperature checked and quarantined for 14 days, but not tested for COVID-19.
After initially declaring a COVID-19 outbreak, Preah Sihanouk Provincial Prison transferred 146 women and 10 children 101 kilometers to Kampot Prison on May 13—ostensibly to protect the women and children from the virus.
However, while Savna claimed that all 146 women and the 10 children were tested for COVID-19 before they were moved, 13 then tested positive upon arrival at Kampot Prison. Again, authorities declined to comment on the matter.
Savna would not confirm how many COVID-19 cases had been found in Phnom Penh Jail, but confirmed that the virus was indeed circulating there as of May 19. Similarly, government mouthpiece Fresh News confirmed that COVID-19 had also spread to Correctional Center 1 on May 21.
Then, on May 25, Kandal Provincial Prison reported that at least 50 people—a mix of inmates and prison staff—had tested positive for COVID-19. By May 26, this had jumped to 103 inmates and three prison staff and Fresh News reported it had risen to 369 by May 31.
Tracking the spread of COVID-19 through Cambodia's prisons has become near-impossible as almost all officials approached over the matter denied that it was their place to say and directed enquiries to other officials who made similar claims.


"Please refer to official announcements by the Phnom Penh and provincial administrations," said Savna, who is both the deputy-director of Prisons Department and its spokesperson. "It is not my job to announce the number of COVID-19 infected people in prisons."
Neither Phnom Penh Governor Khoung Sreng nor Phnom Penh City Hall Spokesperson Met Measpheakdey would discuss the matter with reporters, instead directing them to the Prisons Department.
When Cambodianess approached the Preah Sihanouk Provincial Hall, Kheang Phearum—the local administration's spokesperson—said that he did not have the numbers and that questions should be sent to Preah Sihanouk Provincial Prison directly, but nobody from the prison could be reached at press time.
A similar game of obfuscation played out in Kandal Province, where Nouv Peng Chandara—the deputy provincial governor—said he did not know how many COVID-19 cases had been found in Kandal Provincial Prison nor did he know how many tests had been conducted on estimated 2,844 inmates.
He told reporters to speak to Chat Sineang, director of Kandal Provincial Prison, who promptly hung up after saying that the Kandal Provincial Hall authorities should deal with the press.
Transparency Needed in Public Health Crisis
All of this comes after Human Rights Watch and Amnesty International issued a joint statement calling for greater care of prisoners and transparency over the handling of COVID-19 outbreaks behind bars on May 23.
The statement claimed that hundreds of cases of COVID-19 were not being reported by authorities and called for the Prison Department to immediately publish complete information and take action to save lives. This included releasing prisoners, particularly those most at risk of COVID-19, pre-trial detainees and non-violent offenders.
"We don't know the actual number of cases," said Phil Robertson, deputy Asia director of Human Rights Watch. "But it is quite clear the Cambodian government is underreporting to protect their reputation and deflect attention from their decision to ignore advice to act on the vulnerability of prison populations, including conducting prisoner releases."
He suggested that the number of COVID-9 cases are being massaged by the government as a means of diluting the criticism they face for allowing the outbreaks to spread so far unchecked, noting that it coincided with the Ministry of Health's decision to reduce the information shared in its daily COVID-19 briefings.
Most notably absent in the Health Ministry's briefings is the breakdown of confirmed cases by province, making it harder to understand how the virus is spreading in Cambodia.
Spokesperson for the Ministry of Health Or Vandine said she is no longer taking questions from the press and instead directed reporters to newly-appointed spokesperson Hok Kim Cheng who declined to answer questions about the new daily briefing format or the spread of COVID-19 in prisons.
"Meanwhile the government is also restricting independent reporting to ensuring free flow of information instilling confidence and trust in the government's management of the pandemic," said Robertson, who added that the World Health Organization's (WHO) Cambodian office should be doing more to ensure that the government follows WHO guidelines on the protection of prisoners during the pandemic.
Dr. Li Ailan, the WHO's representative in Cambodia, said that the WHO is working with the UN country team and is focused on technical advice and support, but noted that "transparency is an important principle."
"The government is strongly advised and expected to communicate with the public well on [the] COVID-19 situation including cases and deaths although we understand that there is no perfect data system in any outbreak response," she added.
Overcrowding a Transmission Risk
One key element of the WHO's recommendations is the reduction of prison populations—an especially pertinent issue in Cambodia where overcrowding has long plagued prisons.
The silence of authorities makes it impossible to know how many COVID-19 cases have been detected across Cambodia's 28 prison facilities, but human rights group LICADHO provided data that highlights the severity of overcrowding across prisons suspected of harboring COVID-19.
All data is from December 2020, but Cambodian authorities appear to have done little to ease the congestion in the penal system since then.
Preah Sihanouk Provincial Prison, the first to publicly declare a COVID-19 outbreak, is designed to hold 1,500 inmates, yet was—at the end of 2020—operating at 141 percent of occupant capacity with some 2,100 prisoners held there.
The transfer of 146 prisoners and 10 children to Kampot Prison would have greatly impacted overcrowding given that the detention facility was only supposed to hold 200 inmates and was already home to more than 1,000.
Overcrowding in Kampot Prison is second only to Kandal Provincial Prison, which was 894 percent overpopulated by LICADHO's estimates. More than 2,800 prisoners were caged in facilities built for just 318.
Similarly, Phnom Penh Jail was found to be 112 percent overpopulated, while Correctional Center 1 was 363 percent overpopulated and Correctional Center 2 was 388 percent overcrowded.
This is not uncommon: 27 of Cambodia's 28 prisons house more than 100 percent of the inmates they are supposed to. Thirteen of these facilities are more than 200 percent overpopulated and yet the government has staunchly opposed any measures that would reduce the ballooning prison population and therefore the risk of infection amid the pandemic.
Overcrowding due to an excessive reliance on pre-trial detention, along with harsh sentencing for minor offenses in Cambodia has been well-documented and the risk these traits pose during the pandemic has been raised previously by Amnesty International in May 2020.
"We have repeatedly called on the authorities to take decisive action to decongest prisons and respect the human rights of detainees since then," said Ming Yu of Amnesty International. "However, the government has effectively ignored repeated warnings from Amnesty International and others that the overcrowding crisis in Cambodian prisons and detention centers constitute a lightning rod for major COVID-19 outbreaks."
As if to underscore this observation, Chin Malin—spokesperson for the Ministry of Justice—said that the release of detainees would not solve the COVID-19 outbreaks in prison. He claimed it would affect Cambodia's social stability and that the government is adequately protecting prisoners.
"Related to the COVID-19 outbreak in the prison—the General Department of Prisons has established management and resolving mechanisms," Malin added.
But neither Malin nor the General Department of Prisons would explain what these measures actually consisted of when asked.
An Evidence-based Approach
London-based law firm DLA Piper observed that some 475,000 prisoners in 53 jurisdictions across Asia and the Pacific, Europe, the Middle East, Africa, North and Central America had been released between March and July 2020 in response to the COVID-19 pandemic.
Their report on the success of release schemes was published in December 2020 noted that while this included prisoners who were only temporarily released during outbreaks, the total number released was estimated to have surpassed 1 million by the time the report was published.
"Release schemes can be appropriately designed to focus on the rehabilitation of prisoners while balancing the safety of the community and ensuring public confidence," the report read, noting that release should take place in conjunction with community-led reintegration programs.
DLA Piper called for a reduction in custodial punishments, notably pre-trial detention which is how an estimated 35 percent of the roughly 39,000 prisoners in Cambodia are held.
The report also called for a reduced inflow to prisons and an accelerated release of prisoners, stating that full sentence incarceration should be reserved for only the most violent offenders.
"The COVID-19 pandemic has demonstrated that governments, when willing, can effectively and swiftly implement prisoner release programs to decongest prisons. Most countries already have non-custodial alternatives and early release measures in place or, if not, such measures can be developed through new laws and policies," the report read, adding that the recidivism rate among released prisoners remained low in all jurisdictions studied.
A similar study conducted across 109 countries by Harm Reduction International and the International Drug Policy Consortium published in January 2021 also found that prison release schemes eased the burden on states during the pandemic, but while they had been initially successful, they were not widely implemented.
"By June 24, 2020, these schemes had resulted in the release of approximately 639,000 people, a mere 5.8 percent of the global prison population," the report read. "While this was a welcome initial response, efforts have fallen far short of the significant political commitments made in the name of public health at the peak of the pandemic."
Exploring Non-custodial Alternatives in Siem Reap
Cambodia has certainly failed to seize the opportunity for large-scale prison reforms that the pandemic has presented, but in Siem Reap Province, This Life Cambodia—an NGO focused on social justice at the community level—has extensively trialed diversion programs aimed at preventing non-violent young offenders from being incarcerated in the first place.
"First and foremost, we need to acknowledge that diversion is new to Cambodia, and also to many other countries in the region," said Se Chhin, deputy-director of This Life Cambodia. "It's difficult to point to a working model of diversion in practice that would translate meaningfully to the local context."
Compiling research from July to October 2020, This Life Cambodia published a 52-page report detailing the viability and urgent necessity of community-based alternatives to prison for children.
It dispelled the notion that communities are fearful or opposed to programs that divert young offenders away from prison and back into the community—just 13 percent of respondents to This Life Cambodia's survey were in favor of jailing children—and warned of prison's impact on children's mental health, their family relations, their physical health and their future in terms of education, employment along with their reintegration into communities.
As of January 2020, there were 1,796 children incarcerated across Cambodia's prisons, the population of juvenile offenders leapt up in line with Cambodia's failed war on drugs in 2017—the same time the Cambodian Law on Juvenile Justice came into force.
While the 2017 law was supposed to relegate incarceration to a last resort in cases involving juvenile offenders, the number of children imprisoned almost tripled from 2017 to 2020.
To house the growing number of child prisoners, Cambodia is currently constructing a centralized youth offender center in Kandal Province, which was previously expected to be finished by June 2021, although it is unclear how the current COVID-19 outbreak has affected that.
"We are highly critical of this model because of the success of our This Life Beyond Bars program," explained Chhin, referencing This Life Cambodia's program that offers child offenders alternative to custodial sentences.
The Kandal Province underage correctional facility will, upon completion, hold 2,000 children and will become the destination for all young offenders from across the country. But critics, including Chhin, have warned that this will uproot children from their families and prevent relatives from being able to visit detainees.
"Maintaining family connections is critical to the success of the rehabilitation and reintegration process, our model clearly demonstrates this and we fear that moving children away from their families will have detrimental consequences for the child, the family and the community," added Chhin.
Chhin said he believes that This Life Cambodia's study, which was limited to Siem Reap Province, could be replicated across Cambodia and would help reduce the number of young people in conflict with the law as well as reduce the prison population.
Cambodia's Justice System Weaponized against Activists
The calls for reforms to Cambodia's criminal justice system have only grown louder over the course of the pandemic but the lack of will on behalf of the government has allowed the threat of COVID-19 outbreaks to become a reality.
This has not escaped the attention of the UN, who—on May 28—issued a call for the government to fulfill its responsibilities and publish data on the COVID-19 outbreaks in prisons.
"The United Nations system in Cambodia does not have specific information on the number of positive cases in prisons in Cambodia and calls on greater transparency to ensure that information concerning the outbreak in prisons is made available similar to other COVID-19 positive cases," the statement read, adding that the UN has been advocating for non-custodial alternatives to prison.
But on May 30, the Justice Ministry's spokesperson Chin Malin appeared to signal the government's refusal to release information by taking to his official Facebook page where he incorrectly claimed the UN was calling for the government to publish the identities of prisoners who have contracted COVID-19.
Malin accused critics of being in league with "the opposition" but did not elaborate on how he had come to this conclusion or provide evidence to support it.
The use of prison sentences to silence activists in Cambodia increased sharply over the course of the pandemic, but reflected a broader trend of incitement charges being filed against peaceful protesters, land rights activists and critics of the government.
"Many people in Cambodia are imprisoned over their political beliefs, their defense of human rights [and] their environmental activism," observed Naly Pilorge, director of rights group LICADHO. "Prisoners also include pregnant women, children, the elderly, people with disabilities, youths."
"Imagine sitting in a crowded prison cell, often with less than one square meter of space per person, as COVID-19 spreads throughout the facility," she said. "Imagine the terror and helplessness they must feel. Think of the worry of their families and their children, who have limited contact with inmates and have not been allowed to see them for months."
For Pilorge, the pandemic and the more recent outbreaks in prisons should serve as a wake-up call for the government to ensure greater transparency and equal access to healthcare, particularly in prisons and other facilities where the state is responsible for the wellbeing of inmates.
"This is an entirely avoidable crisis," she added. "The government must immediately bail pre-trial detainees; release non-violent offenders and prisoners of conscience; and reform the judicial system to stop detaining so many people who have not even been convicted of a crime."
But as of May 31, the government is continuing to downplay the severity of the outbreak in prisons and the government's continued hostility towards critics of its health response has limited public understanding of the risk posed by these outbreaks to both inmates and the general public.
One of the few international NGOs with access to Cambodia's prisons, the International Committee of the Red Cross (ICRC), is working with the Prisons Department to quell the COVID-19 outbreaks, according to Dena Fisher, head of mission in Cambodia.
"As Cambodia maintains its efforts to bring the virus under control following the Feb. 20 outbreak, we know that nobody is safe until everybody is safe, including those in prison," said Fisher.
She detailed particular areas of focus for the ICRC in Cambodia, including access to healthcare, water and sanitation in the short-term, but also aiming to reduce overcrowding, repair infrastructure and ensure that detainees are able to maintain relationships with families.
"Since the detection of the first cases, preventing any further spread has been a priority for everyone," she added. "We will continue to support the Prison Department, prison and health staff, detainees and their families at this difficult time."
Related Articles